THE BATTLE FOR JUSTICE: SYLVESTER WAS BEATEN TO DEATH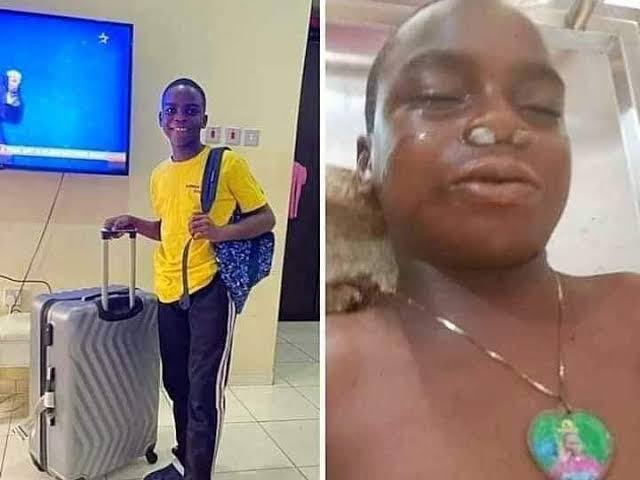 A viral video of the young student of Dowen College in Lekki, Lagos State trailed and blazed like wildfire on the social media handles on December 3rd, 2021and it is on this that Tracknews.ng intended to write on. The 12-year-old boy with the name, Sylvester Oromoni Junior, has been allegedly beaten to death by his other students for failing to join their clandestine cult group.
In fury, the Lagos State Government shut down the school indefinitely. This was announced by the Commissioner for Education, Mrs. Folasade Adefisayo after a close-door meeting with school authority.
The school management claimed that it was a bully as proclaimed. Tracknews.ng gathered that the father of the late student denied this claim vehemently by saying that many a time the school has called home to report that his child sustained injury from soccer, that it was all a fib. The father said that the boy had earlier predicted his death after various tortures from the fellow students, perhaps these students.
Tracknews.ng will like to commend the timely action of the Lagos State Government for trying to set up an investigation panel to reveal the cause and the murderers of the boy. They should do this briskly and not delay justice.
Tracknews.ng use this medium to express their profound gratitude to Perrison Oromoni for taking the video for the world's consumption though he is a cousin to the boy.
We will like to acknowledge the indefatigable efforts of the Ijaw Youth Council as they joined others in unraveling the death of the poor guy. Our appreciation goes to IYC National Spokesperson, Comrade Ebilade Ekerefe and his members. Nigerian stars like Mr. Macaroni, Aisha Yesufu and other Nigerians are recognized for commiserating with the family of the deceased.
It is a thing of gloom for Track News to learn that the two awful students which he mentioned their names to be part of those who injured him gravely have fled the country immediately after the inglorious incident.
However, we promised that justice will be meted out as expected once the criminals have been brought to book. TAOHEED Oluwatimileyin Mohammed, a junior intern at Eweomi Chamber and Debo Adeyemi Chamber (both in Offa, Kwara State) promised that justice will follow the right path once they get the criminals. The promisee is as at now a law student of Usman Dan Fodio University Sokoto State and the National Correspondent at Tracknews.ng
#JusticeForSlyvester
#TrackNewsMedia
#JusticeInNigeria
#DowenCollegeLagos