Emami hosts Ex – Nigerian Internationals, members of Warri Royal Family, Community Leaders, at his Warri palatial home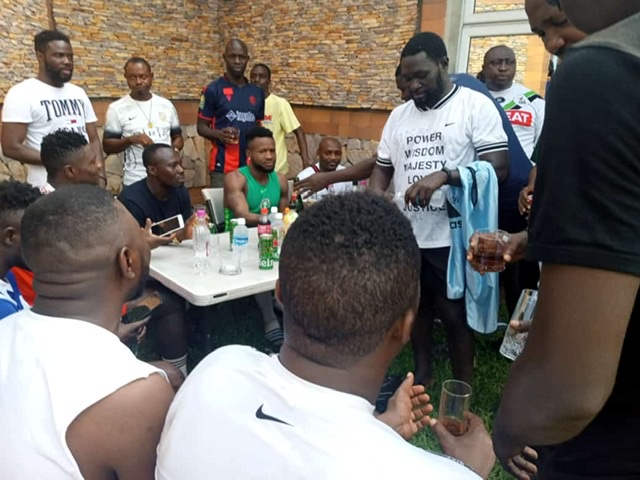 The embattled Ologbotsere of Warri and famous politician cum business magnate, Chief Ayirimi Emami,
Emami hosts Ex – Nigerian Internationals, members of Warri Royal Family, Community Leaders, at his Warri palatial home
The embattled Ologbotsere of Warri and famous politician cum business magnate, Chief Ayirimi Emami, on Saturday January 1, played host to an array of ex – Nigerian International footballers, some members of the Warri Royal Family, Ginuwa Ruling House, Ologbotsere Eyinmisan Descendants, community leaders and prominent Warri youths at his palatial home in Ubeji, Warri, Delta State.
www.tracknews.ng can report that former Super Eagles Defender and ex captain of Warri Wolves, Azubuike Egwuekwe, one – time defensive midfielder of Super Eagles, Christian Obodo as well as renowned Warri soccer stars such as Kenneth Fiakpa of then Sharp Shooters Football Club, Warri and Tony Olokporo A.K.A. Orando of the then Invincible Leopards of Warri, were among foreign and home based footballers that congregated at Chief Emami's home.
Prince Yemi Emiko, Chief Mike Odeli, Chief Popo of Agbarah Kingdom, Warri, Prince David Iwere as well as other eminent community leaders, attended this year's edition of the annual new year day get – together at Chief Emami's country home in Warri.
The socio – cultural gathering, featured the usual five – aside football game, cooking competition among male folks of the different quarters in Okere Community, Warri, cameo cultural dances, entertainment by a standby Disc Jockey, lavish reception and reconnection of old Warri boys.