How I was booted out of APC, may return to party after final judgment on PDP's Secondus suit – Kwankwaso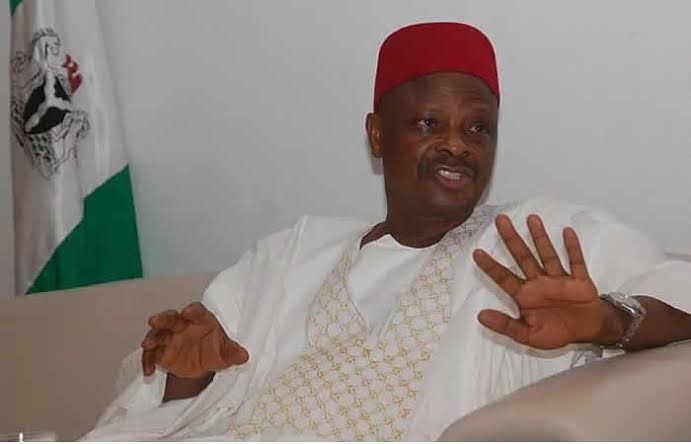 Former Governor of Kano State, Rabiu Musa Kwankwaso, has narrated how he was pushed out of the ruling All Progressives Congress (APC) by powerful forces.
Kwankwaso, now a chieftain of the Peoples Democratic Party (PDP) said he is however weighing the options of returning to the party after the Supreme Court's judgement on the case instituted by Uche Secondus, sacked ex-chairman of the party.
The leader of the Kwankwasiyya Movement in an interview with the Punch, said returning to APC would not be something strange as there are no permanent enemies in politics.
PlatinumPost recalls that Governor Abdullahi Ganduje, who was Kwankwaso deputy had in his New Year message hinted at possible reconciliation with the PDP chieftain and other political gladiators in the state.
But Kwankwaso said returning to APC will not be automatic, even as he shared his thoughts on the crisis rocking the party in the state.
He said : "You see, wherever leaders have decided to be unjust, the consequences are huge. I was one of them in the APC. I played a very significant role in putting the structure in Kano and even in the country. I also participated actively in the primary elections and the national election in Kano. I participated actively in mobilising people to vote. In 2015, Kano produced over 1.9 million votes for the APC.
"All our elected officials were in the APC; the 40 members of the House of Assembly, 24 House of Reps members, three senators, governor and every position. But instead of everyone appreciating, they all started fighting unnecessarily to the extent that they decided to kick me out of Kano for three and a half years for no reason.
"They worked so hard against us believing that they were better without us, believing that they were strong enough. Many of them will tell you it is the seat. It is not true. The person on the seat is also critical. The personality is critical. Some governors go into the Government House for eight years and disappear after.
"You see their portraits and you can't remember them. But some would leave and be remembered for decade; people are learning close to nothing. The same mistake Mr A did in 1999 and in 2003 and 2007, people keep making worse mistakes. People are supposed to learn from history and avoid mistakes of the past.
" If not that they fought me, I would have remained in the APC, I would have advised them because many people see this game of politics as dirty but that is incorrect. Politics is a very clean game. You cannot go out and start cheating and destroying people when you are being paid to make their lives better and you think you will be a happy man. It will not work. It has never worked anywhere.
"So, yes, they have the power, they pushed us out and we said we will not fight, even though we have the capacity to create trouble. But it wasn't in the interest of the state. What is happening now is not different from what we believe would happen. You cannot destroy people and think you will be fine. Unless they change and begin to do the right thing, I think this is just a starter."
Asked on his possible return to APC if the leadership loyal to Ganduje is removed, he said anything is possible, adding that the outcome of the Supreme Court case might strongly determine his decision.
His words: "In politics, everything is possible in this game. We don't want any permanent enemy. What we want are permanent friends. It is very important. We work for friendship.
" It will amaze you that some of my friends who we started working with 30 years ago, many of them are still alive and we are together. Even those who died from 30 years ago to date are in our record and every year, we do one thing or the other for their families.
"So, in 2023, I believe many things are likely to happen. The PDP had its convention. Of course the former national chairman (of the PDP), Uche Secondus, is in court and very soon, we will have a verdict at the Supreme Court.
" The judgment will determine the future of the party. And what the executives decide to do is also important. The leadership may say the 13 governors are strong, they have the numbers and everybody should go to hell. That is one way. The other thing is to say everyone should come and let us think together because you see, people, individuals, groups, parties and leaders should try to be humble and not arrogant.
"Don't think you can always win elections no matter what you do. It doesn't work that way. People should be democratic and should try to play politics properly. If you are going into elections, put all facts and figures on the ground; ask yourself, who is the best person? That person may not be your friend but what is important in politics first and foremost is to win elections.
"So, anything can happen in 2023. This is the what happened to the PDP, the other is the APC. The APC is still doing all sorts of manoeuvres. They are playing the game the way they understand it and they can make mistakes. And once they make mistakes, the result may even be worse than what happened to the PDP. And that is another factor. For us, we are very flexible. We are looking at the situation as it is and we are looking at history and projecting into the future and ensure that this country gets the best leadership."
The former Kano state governor also lamented the 2019 elections result in the state and alleged that the PDP governorship candidate won in the guber poll but was denied the seat of power by powerful forces.