Nigerians Need To Feel Safe And Secure In Their Own Country – Wike Tells Buhari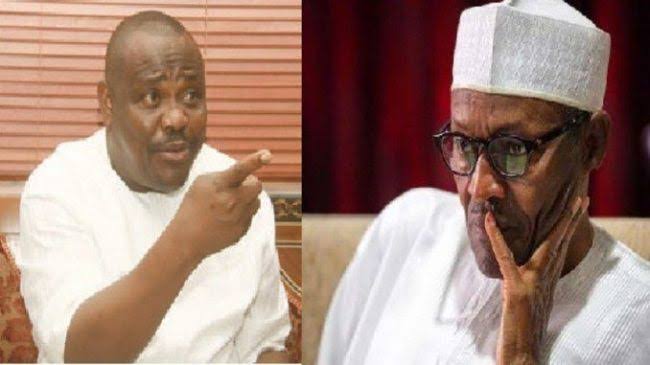 The Rivers State Governor, Nyesom Wike has challenged President Muhammadu Buhari to redouble his efforts in eliminating the security challenges facing the country.
Speaking on Saturday in Port Harcourt during the event to mark the 2022 Armed Forces Remembrance Day, Wike submitted that the President owes Nigeria that much as it was part of his campaign promises to the people of the country before he was elected.
The Rivers State Governor however noted that some progress is been made in the fight against insecurity, but Boko Haram, bandits, and other insurgents are still operating freely in some parts of the country particularly in the north.
While commending the armed forces for their dedication and loyalty including some of them having to pay with their lives in defence of the citizens, Governor Wike said the federal government must equip the military more so the prolonged internal war against insurgency can be brought to an end and Nigerians can feel safe and secure in their own country.
In his words, "There is also the unbridled killings by the bandits and the increasing insecurity in most parts of the country with members of the armed forces made to pay the price of containing these internal wars continuously.
"We acknowledge that some progress has been made in the fight against the insurgents.
"However, the generality of Nigerians believe that the progress made can't be good enough insofar as Boko haram, its affiliates and the bandits are still active in the North-East, North-West and some other parts of the country killing, maiming and kidnapping helpless people, including school children, and destroying and displacing hapless communities.
"We, therefore, call on Mr President to redouble his efforts and fulfill his cardinal electoral promise to secure the country and ensure that Nigerians feel safe and remain safe and secure wherever they are in their own country."
Wike while acknowledging the roles of the military forces in keeping the country safe said their noble efforts must not be allowed to go down the drain.
He said: "We also count on our armed forces to quickly end the raging insurgency and restore peace and hope to all our distressed people and communities who bear the physical, emotional, and psychological scars of war and destruction."