Sanwo-olu addresses Magodo residents, invites stakeholders for talks over land disputes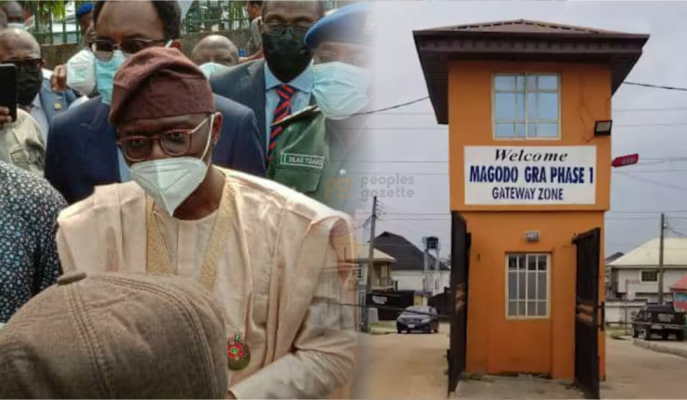 Those expected at the meeting are representatives of the judgment creditors, the residents association and the police.
Governor Babajide Sanwo-Olu, on Tuesday, met with the residents of Magodo Phase 2 Estate in Lagos over its planned invasion and demolition by police officers.
Earlier today, police officers invaded the estate and marked some properties for demolition. They claimed that they were there to enforce the judgment of the Supreme Court.
The aggrieved residents of the estate protested the police invasion, displaying placards calling for the attention of the state government.
Mr Sanwo-olu who visited the estate on Tuesday afternoon, said he has spoken with the IGP on how to resolve the issue, adding that he will be holding a stakeholders meeting tomorrow on a way forward.
"So, in the car, I had spoken extensively with the Inspector-General of Police and the Attorney General and we've resolved all of the issues.
"So, what we'll see is that there is going to be a total stand down and tomorrow we'll be inviting the representatives of the judgment creditors. We have actually started a committee, but I want to invite them again officially to my office tomorrow by 11 O'clock to come over with their representatives.
"The state government, the residents association and the police will be at the meeting so that whatever it is that brought about this trouble and headaches will be laid bare," the governor said.
Describing residents of the estate, the original landowners and police as "my subjects," the governor said it was his responsibility to ensure "fairness and equity," in resolving the dispute.
Assuring the residents of a solution, Mr Sanwo-Olu said, "none of your houses would be marked again and the ones that have been marked, we will try and see how we will sort it out because war doesn't take anybody anywhere, it is on the table that we will all resolve it."
While addressing the leader of the police team that invaded the estate, the governor said the court judgement was between the state and the landowners (Shangisha Landlords Association).
Reminding the leader of the police officers that he was the state's chief security officer, the governor asked that he call the Attorney-General of the Federation (AGF) and vacate the area.
"Please can you call your superior in Abuja and tell them that the governor is here and I'm the chief security officer and you don't have any business being in my state right now and I want you to disengage your duty from here."
However, the officer refused the governor's request, asking him to make the call himself, saying that he was acting on orders of the IGP and AGF Abubakar Malami.
"I am here on the instructions of the Inspector General of Police through the AGF. I'm too low to call them your excellency sir. With due respect sir, you can call them directly," the officer responded to the governor