SILGA Council Boss Appreciate Gov. Diri For Taking Road To Angiama Community (See Photos)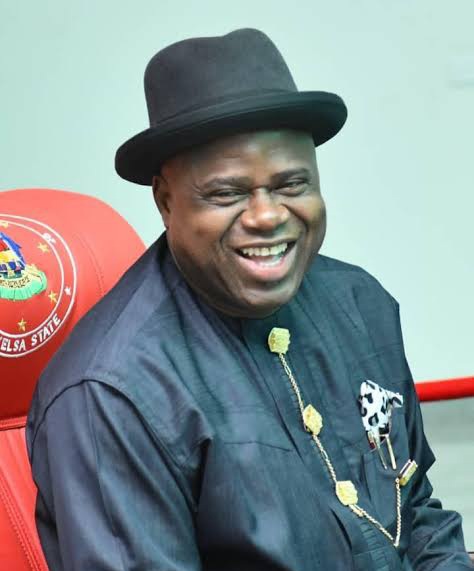 As He Drives Historically Into The Angiama Hearty Cheers From Indigenes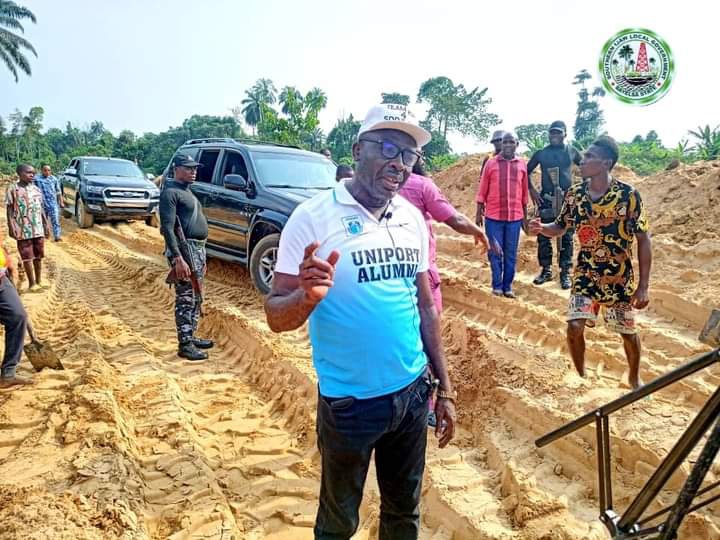 It was an epoch making day as the Executive Chairman of Southern Ijaw LGA, Chief (Hon) Kia Ebidoughebofa Nigeria, drove through the ongoing Yenagoa-Oporoma Road right into Angiama Community for the very first time in the history of Southern Ijaw LGA and Bayelsa State.
Lost in euphoria and gratitude, Chief Kia poured encomiums on the Prosperity Governor of Bayelsa State, His Excellency Senator Douye Diri, for demonstrating undying love towards the good people of Southern Ijaw LGA by taking the Yenagoa-Oporoma Road to Angiama Community.
He stated that driving personally into Angiama Community for the very first time in history comes with so much joy and gratitude that cannot be quantified.
In his words, " I drove here to come and see and appreciate this good Governor God has sent to us. I thank His Excellency the Miracle Governor on behalf of the good people of Southern Ijaw LGA particularly the people of Angiama Community that has tasted the benefits of voting a PDP Government. This is an encouragement to every other Community in Southern Ijaw LGA that the Senator Douye Diri led Government has come to set the pace and also to bring in development. So I appreciate the Governor, His Deputy and the entire cabinet"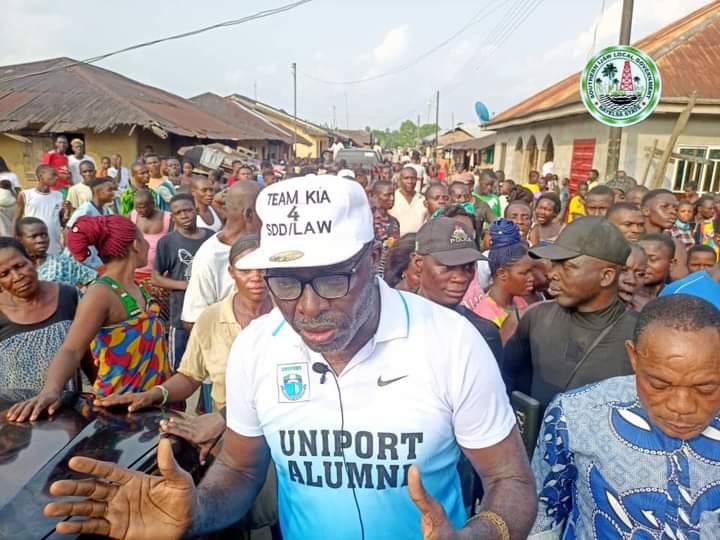 He further said "even if you are blind, a vehicle will take you to Angiama Community, and for you to get to Angiama without using speed boat, if you want to vote you will vote for PDP and Governor Douye Diri. And so, Southern Ijaw LGA is total for PDP and Douye Diri because this is what we have always wanted."
Jubilant Angiama Indigenes who trouped out in numbers to welcome the Chairman, also immensely appreciated the Governor Douye Diri led Government for this historic feat.
Chief Kia equally met Hon. Perekebena Okoyen, SSA New Media who was also on inspection at the ongoing road project, and commended him for the passion, commitment and courage demonstrated in the discharge of his duties.