Why I've Not Re-married Since My Wife Died In 2009 – IBB Opens Up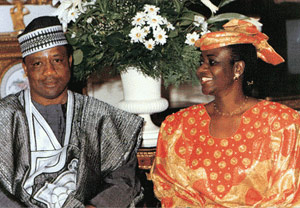 Former military president of Nigeria, Ibrahim Badamasi Babangida (IBB) has revealed that it is a conscious decision for him to have remained unmarried since his wife died in 2009.
The former president revealed that he decided to honour his wife, the late Maryam Babangida with his decision to remain unmarried since she passed away.
www.tracknews.ng recalls Mrs Babangida died on December 27, 2009, at the age of 61at the University of California's Jonsson Comprehensive Cancer Centre (JCCC) in Los Angeles, United States.
Before her death, she had battled ovarian cancer for several years.
Speaking during a recent interview with Trust TV, IBB disclosed that it's a matter of choice and out of respect for his late wife to have remained unmarried since then.
"No, I didn't do it (re-marry), you would have known. The media still snoop around me, they should have known. I haven't. It is a matter of choice; I decided to honour her by being not a bachelor but being unmarried."
It will be recalled as earlier reported by this online news platform that IBB during the interview also disclosed the kind of candidate he wants for Nigeria in 2023.
According to him, the person who should take over from President Muhammadu Buhari should among other things, be a young person, who is conversant with happenings in the country and has good communication skills.
He said the next president must be able to address Nigerians on issues bothering them and must have distinguished himself/herself in a particular field with traceable track records.