Governor Lalong Confirms Who President Buhari Wants To Become APC Chairman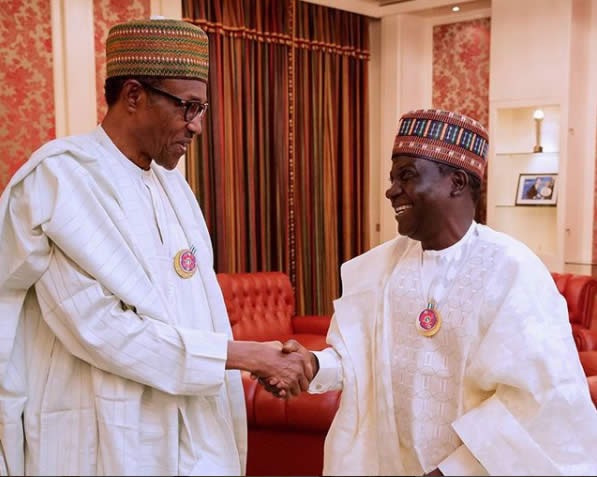 The Governor of Plateau State, Simon Lalong has confirmed that President Muhammadu Buhari has a preferred choice on who should emerge as the new national chairman of the All Progressives Congress (APC).
According to Lalong, the President's preferred choice is former Nasarawa State Governor, Senator Abdullahi Adamu.
Lalong said President Buhari has also communicated his wish to the APC Governors but added that everyone who has shown interest in the position and feels otherwise about having a consensus candidate should still be allowed to go into an election at the convention.
The Plateau Governor made the revelation on Thursday during a guest appearance on Channels TV's Politics Today.
According to him, Buhari first told them he preferred the national chairmanship position to be zoned to the north-central but after their own deliberations, they asked the President if he has any particular candidate in mind and he chose Adamu.
"The president said he preferred the chairman should come from the north-central zone," the Plateau governor said.
"Then we went back again after deliberations and we asked 'do you have a preferred candidate in the north-central zone?' He said, 'yes, I will prefer if Abdullahi has met the choice'."
He added that President Buhari during his meeting with the APC Governors on Wednesday took his time to explain his relationship with each contestant and why he prefers Adamu.
"The president took them one by one to explain his relationship with all of them and how they are all capable of becoming chairman. They all have capacity. But the constitution provides that there must be one person," he said.
"So, even if you insist that who would I prefer, I will also say it's done; even governors do that.
"However, they are all going into the elections. If you think otherwise, you can vote anybody."
After Wednesday's meeting with the President in Abuja, Kebbi State Governor, Atiku Bagudu had revealed that the APC Governors would support Buhari's candidate during the party's national convention on Saturday but aspirants against consensus are free to contest.
TrackNews reports Senator Adamu who is the chairman of the APC reconciliation committee served as Nasarawa State Governor between 1999 and 2007. He is the incumbent Nasarawa west senator.