2023 Presidency: Tinubu Promises To End Bandit Attacks In Nigeria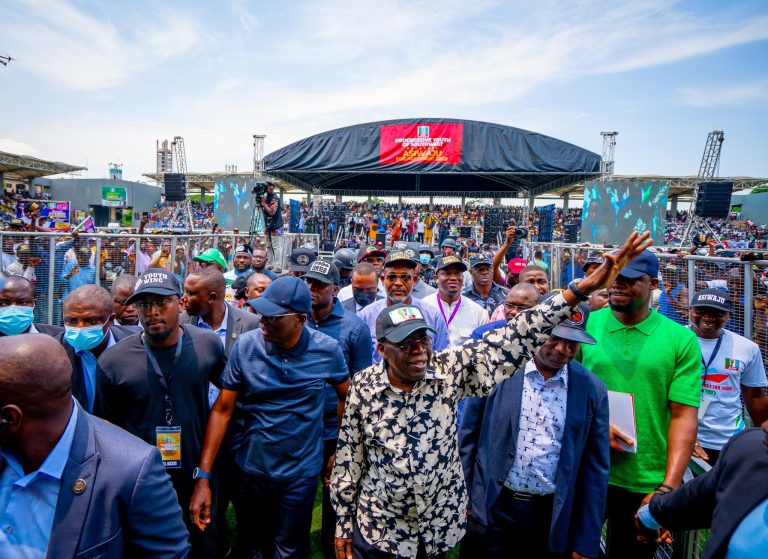 National Leader of the All Progressives Congress (APC) and 2023 presidential aspirant, Asiwaju Bola Tinubu has vowed to end banditry in Nigeria if elected President.
The former Lagos State Governor made the promise on Saturday during a political rally at the Mobalaji Johnson Arena in Onikan, Lagos.
He said the drive is to create a Nigeria that many citizens are dreaming of. A violence-free and prosperous country.
"A united Nigeria is our dream," Tinubu said. "A free Nigeria is our commitment. A violent-free Nigeria, a banditry-free Nigeria. A very successful Nigeria. We promise you, we will hand it over to you. You are our tomorrow."
He also asked the youths of the country to support his ambition, promising to work for them.
"I want to be President for you," he said. "Drive me there. Commit yourself. Enough of excuses, enough of bitterness, enough of disunity. All we have to do is to be a United Nigeria of Africa."
The event also had in attendance the Lagos State Governor Babajide Sanwo-Olu and his deputy, Obafemi Hamzat.
In a series of tweets after the event, Governor Sanwo-Olu canvassed support for the presidential ambition of Tinubu and also shared some pictures from the rally.
"I joined young people from the SW States at Mobolaji Johnson Arena, Onikan in their support for the presidential aspiration of Asiwaju Bola Tinubu," Governor Sanwo-Olu said.
"In company of Deputy Governor, Obafemi Hamzat, and other leaders of our great party in Lagos and other SW states, we saw the determination and energy of our young people to work for the success of Asiwaju Bola Tinubu's aspiration that is only motivated by a higher purpose of service to the people of this great country.
"Our Leader, Asiwaju Bola Tinubu is buoyed by the support he has so far received by the youths and he's determined to take the mantle of leadership of Nigeria by the grace of God and the will of the people for a better, prosperous and united Nigeria."