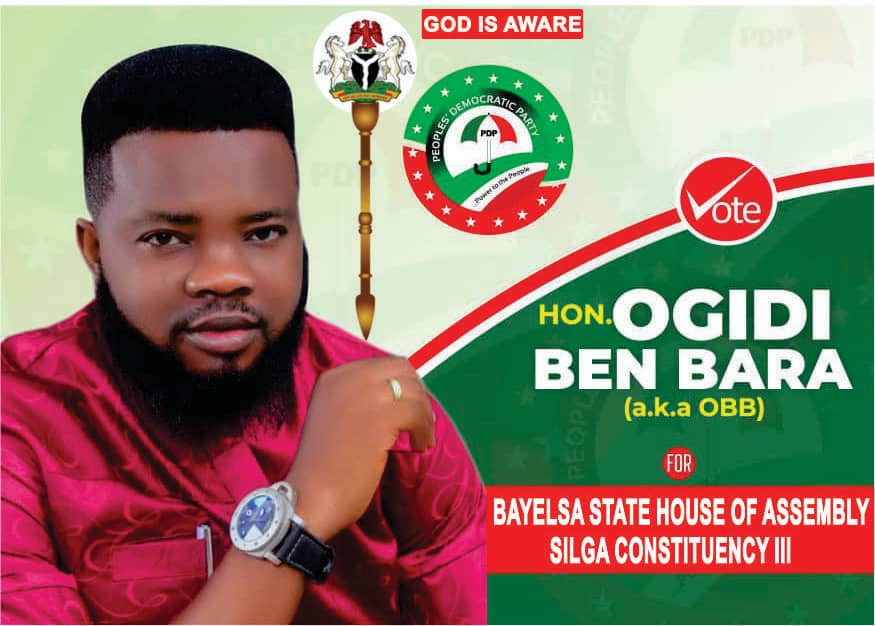 Today is a very emotional day as I, OGIDI BEN BARA (OBB) officially make my decision concerning the forthcoming general elections, public. I recall in 2011/2012 with nostalgia the excitement, high hopes, and enthusiasm felt when I presented myself and served as the Ward Chairman, Southern Ijaw Ward 12 under People's Democratic Party (PDP); and later represented the people at the ward level as the Councilor representing Southern Ijaw Ward 12 in 2013.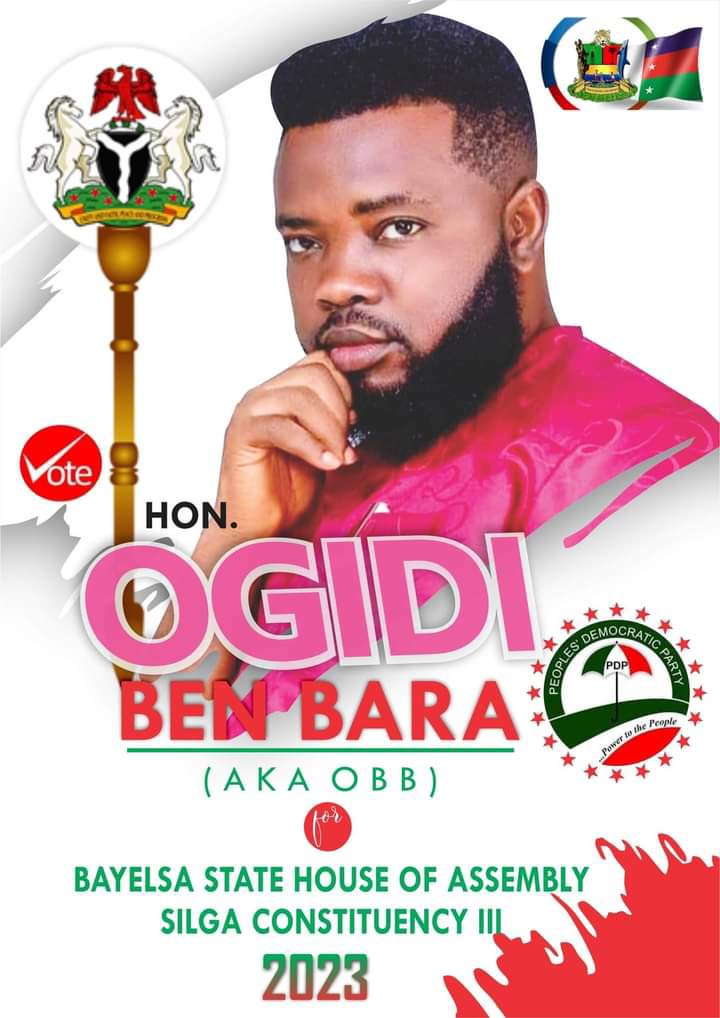 To be honest, given the turnout in previous elections, I was tempted to face my business and family. But who are my family and what do I do professionally? The call from the people asking me to return to save the mandate confirmed that their welfare is my concern.
In view of the foregoing, I take this opportunity to humbly inform the people of Southern Ijaw Constituency 3 and the general public that your brother, son and friend has answered your call to make himself available to run for the position to represent you in the Bayelsa State House of Assembly in 2023. Once again I count on your help and I am confident that you will not fail me.
In 2010, Seth Godin in his book, "Linchpin: Are You Indispensable?" wrote that 'Leading is a skill, not a gift. You're not born with it, you learn how.' I, Hon. Ogidi Ben Bara aka OBB is a man who always wishes to see the youth of Bayelsa State and Nigeria transformed into modern realities through political rather than ideological perspectives. Like the vast majority of Nigerian youth, I was not born with a silver spoon, but I have proven over the years that with hard work, diligence and loyal service, great things can be accomplished; and indeed I have demonstrated this in every situation where an opportunity presents itself.
DIVIDENDS OF DEMOCRACY
I pledge to collaborate, understand, and build a harmonious relationship among various arms of government, which are critical to delivering democratic dividends, development, efficient service, and seamless governance to the people of Southern Ijaw Constituency 3, to realise the greater Southern Ijaw dream of all Southern Ijaw people, and at the end of the day, we will have a progressive and hitch-free understanding of ourselves. The goal is to achieve good and high-quality governance representation, so that people can reap the benefits of democracy and realise that "Southern Ijaw will continue to develop purposefully.
YOUTH EMPOWERMENT
Everyone should be involved in decision-making processes and governance institutions in a functioning democracy. It is vital to include youths in all stages of its development and execution, including the identification of priority regions. Young people, women, and people with disabilities (PWDs) have been relegated to the margins in many parts of the world. Participation of youth in public life has direct economic, political, social, and cultural impacts. Recent evidence suggests a beneficial link between active citizen involvement and economic outcomes, particularly for young people who are not in school, work, or training.
Governments must develop integrated youth strategies that provide adolescents with the required capacities and chances to participate meaningfully in social, economic, and political activities, given the multifaceted and intertwined difficulties they face in the region.
Developing a far-reaching strategy for addressing youth outcomes is fundamental to ensure that roles and responsibilities are assigned clearly and that ministries, civil society organizations and the private sector are jointly working towards a common vision.
OPEN DOOR POLICY
The Open Door policy was a statement of principles initiated by the United States in 1899 and 1900. It called for protection of equal privileges for all countries trading with China and for the support of Chinese territorial and administrative integrity.
I promise to bring a novel innovation to everyone by increasing citizen involvement and public trust in the institution to address issues such as legislative transparency, access to the parliament, media relations, the roles of organised interests, and civic education, to cover primarily public activities in the halls of parliament. When compared to other Assemblies since the establishment of Nigeria's Fourth Republic in 1999, I shall stand head and shoulders above the rest in many ways.
Changing The Narrative Of Youths As The Leaders Of Tomorrow Instead Of Today. This quote from Nelson Mandela, "The youth of today are the leaders tomorrow" is a widely known remark that encourages us to believe in our adolescents. Bayelsa state is a free and proud state that embraces that belief.
Youth development and youth leadership are going to be my priority, if I am voted into the Bayelsa State House of Assembly.
Through school and community-based programmes and activities, conditions that promote healthy youth development will be encouraged and implemented. Effective programmes and therapies for youth development, according to researchers and practitioners in the field, recognise youth strengths and try to stimulate good growth rather than tackling threats in isolation. Youth who are constructively engaged in learning and doing, as well as those who are connected to positive adults and peers, are less likely to engage in risky or self-destructive behaviours.
Youth development is a process that prepares a young person to meet the challenges of adolescence and adulthood and achieve his or her full potential. Youth development is promoted through activities and experiences that help youth develop social, ethical, emotional, physical, and cognitive competencies.
Youth leadership is part of the youth development process and supports the young person in developing the ability to analyze his or her own strengths and weaknesses, set personal and vocational goals, and have the self-esteem, confidence, motivation, and abilities to carry them out, including the ability to establish support networks in order to fully participate in community life and effect positive social change; and the ability to guide or direct others on a course of action, influence the opinions and behaviors of others, and serve as a role model.
BILLS AND MOTIONS
As young man I will surely protect and always defend our dependable, hardworking, reliable and industrious youths. And also remember, in my four years tenure of course the woman and our aged parents will not be left out. In achieving this, I will surely present youth and women oriented bills that will benefit all.
I will raise motions and bring to the house matters of public importance. I pledge to stand as a voice to the voiceless, and I will be the 'TALKING DRUM' in the house. The people of Southern Ijaw Constituency 3 will feel the impact of effective representation.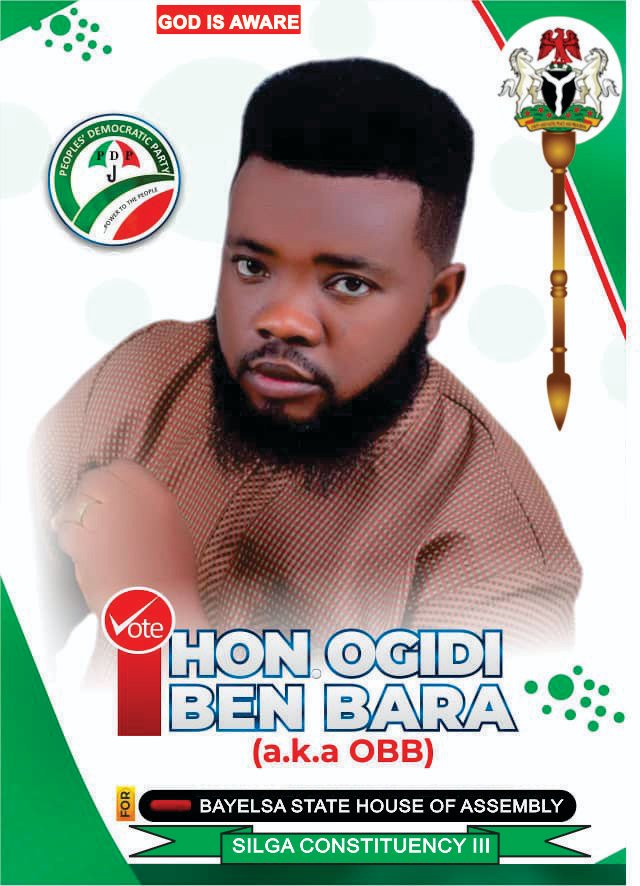 I pledge to all prospective party leaders and delegates to the forthcoming party Primaries of the People's Democratic Party (PDP) that I will not let them down if chosen as the House of Assembly candidate of the party for Southern Ijaw Constituency 3, Bayelsa State.
I am the aspirant of choice, and by the Divine Grace of God, I will become the Southern Ijaw Constituency 3 PDP candidate of choice in a few weeks. However, this cannot be achieved without you. I hereby appeal to each and every one of you to take the power into your hands, and encourage your leaders to work together and let us make this a reality.
`The Man with the Plan' on the Ballot".