Controversy in Green Chamber over arrest of Rep Farah Dagogo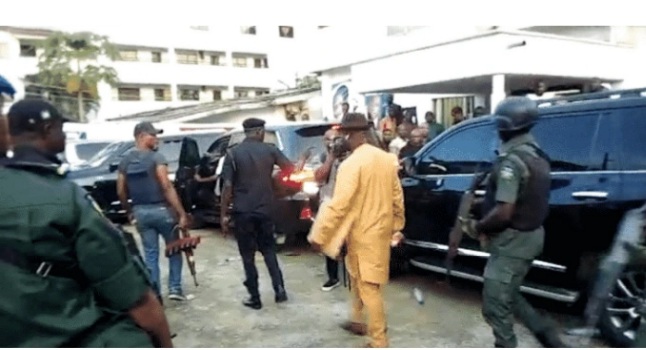 OrderPaperToday – Lawmakers in the House of Representatives were on Wednesday divided along party lines as members of the All Progressives Congress (APC) Caucus condemned the arrest and detention of Farah Dagogo.
The development was sequel to a motion of urgent national importance sponsored by Chisom Dike (APC, Rivers) on the arrest and detention of Farah Dagogo; the lawmaker representing Bonny/Degema Federal Constituency of Rivers State.
Debating the motion, Dike urged the House of Representatives to direct the Attorney-General of the Federation and Minister of Justice to use his constitutional powers to withdraw and take over the matter from the magistrate court.
Dike also prayed the House to prevail on the Inspector General of Police (IGP) to release Dagogo from detention where he is held at the State Criminal Investigation Department (SCID) in Rivers State.
He also asked that the Peoples' Democratic Party (PDP) ensure the screening of the embattled lawmaker for the governorship position.
Speaking earlier, Deputy Speaker Ahmed Idris Wase expressed concern over the incident in Rivers State and asked the Rivers State Caucus to brief the House on actions taken so far.
"This matter affects one of us. It is not about party and it could be anybody," he noted.
Contributing to the matter, Minority Leader Ndudi Elumelu, urged the APC to steer clear of the issue since the embattled lawmaker is a member of their party (PDP).
"I am aware that Chisom is a member of your party (APC, referring to the presiding officer, Femi Gbajabiamila) but that is not where I am going to. Chinda has already said we should toe the line of reconciliation in this matter."
Speaking further, Elumelu insisted that prayers of the motion were contrary to a call for reconciliation while demanding a deletion of the prayers.
In his submission, Kingsley Chinda (PDP, Rivers) urged that the matter should be discussed at the leadership level and not the way it was being handled.
"I would have suggested that this matter should not even be discussed here. It is very sensitive.
Who knows who would not has survived it on that day. There's another point to this story," he said.
In his remarks, the presiding officer, Speaker Femi Gbajabiamila urged the members not to take sides, adding that "Governor Wike is a good man."
"As leaders, we have to approach this matter objectively. We need to be seeing to assist Dagogo. It is obvious we are speaking with sentiments and it should not be so. Let us approach this matter cautiously," Gbajabiamila noted.
Meanwhile passing the motion, the House resolved that its leadership weigh into the matter.