Iniyelayefa Threatens To Drag Diberefigha To Court In 5 Days Over Libelous Facebook Post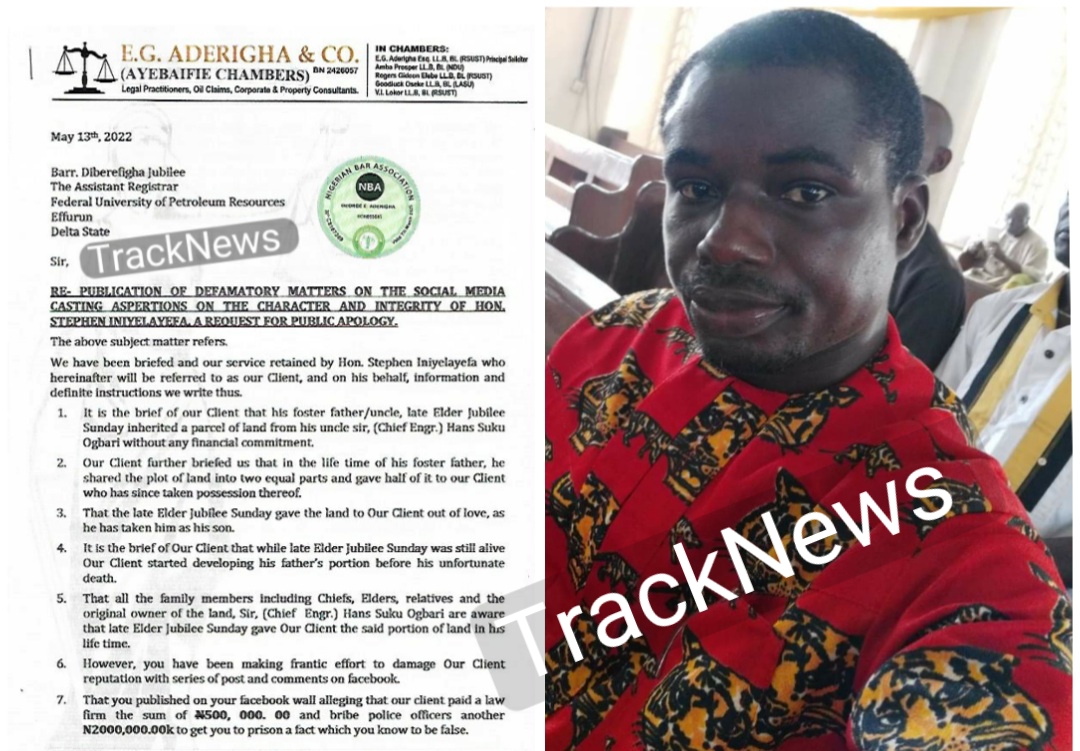 Honourable Stephen Iniyelayefa has reportedly threatened to drag Barr. Diberefigha Jubilee, the Assistant Registrar of the Federal University of Petroleum Resources, Effurun, Delta State to court. The threat issued was necessitated by the post released by the former via his Facebook account on the 7th day of December, 2020.
This post according to Barr. E. G. Aderigha, the counsel to the claimant contains false and highly defamatory statements, part of which portrayed Honourable Iniyelayefa as a secret cultist, capable of issuing death threats.
Diberefigha was reported to have said in respect to the claimant, "it is obvious the Ogbolomabiri people is ready to take the mantle with an array of aspirants jostling to contest but my role moving forward is to showcase the characters of the likely aspirants who have indicated interest among whom are Iniyelayefa Stephen – people who can't train their immediate family members and persons that ensure there is perpetual poverty to their immediate family wanting to run Nembe."
The snide campaigns of calumny are according to the counsel libelous and are also capable of inciting the public against the person of Honourable Iniyelayefa whose reputation is being soiled by the defamatory Facebook post.
Iniyelayefa recommended as alternative to court action the payment of a total of a hundred million naira fine. This alongside a public apology to be given wide circulation in two National Dailies, will go a long way in remedying the damage done to Iniyelayefa's reputation.
The letter served as pre-action notice says, "consequently, it is the demand of our client that you render a public apology to our client to be published in two (2) National Dailies circulating within Nigeria.
"That you pay our client the sum of One Hundred Million Naira (N 100,000,000,00) only for the defamation of character as your incessant posts and comments on your Facebook page has caused irreparable damage to our client's public image and reputation."
The conditions stipulated in the notice are to be fulfilled accordingly within five days or there is a need for a court action.