Why I anointed Deputy to succeed me – Ganduje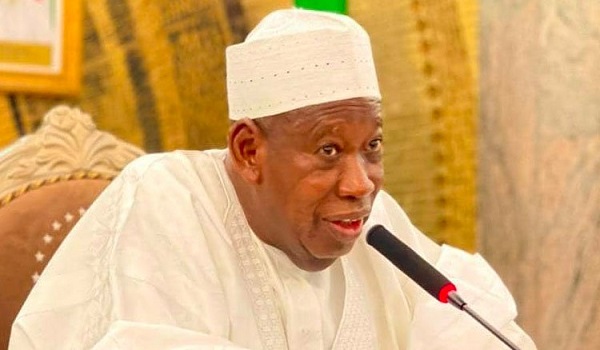 Kano Governor Abdullahi Ganduje has explained why he anointed his Deputy, Dr Nasiru Gawuna, to succeed him in 2023.
The Governor officially anointed Gawuna as the gubernatorial candidate of the All Progressives Congress (APC) during an APC stakeholders' meeting at Africa House, Government House, Kano.
Ganduje picked his former commissioner for Local Governments and Chieftaincy Affairs, Murtala Sule Garo as Gawuna's running mate.
He said: "The decision to make my deputy the flag bearer was unanimously taken after exhaustive deliberations with all the stakeholders of the party. All party procedures were followed before arriving at this position.
"I was Deputy Governor before becoming Governor. This time, my deputy, Dr Nasiru Yusuf Gawuna, is our choice for the gubernatorial seat come 2023 general election.
"He will contest alongside Murtala Sule Garo as his running mate.
"Gawuna is a complete gentleman, who knows what is right and what is wrong. A person who is reliable and very loyal he is.
"As a Deputy Governor, he makes good use of his office as a lieutenant, who is very loyal and dependable."
On Garo, the Governor said: "Garo is a commander, who is loyal and committed to our cause. He is a very fearless confidant.
"If you want to win a clear and clean political fight, you need somebody, who is energetic, loyal and fearless. That is Murtala Sule Garo for you."
Gawuna promised to remain loyal to Governor Ganduje and the party after elections.
"I am humbled by our amiable Governor's words describing me as a loyal lieutenant, trustworthy, respectful, dependable and reliable person. This has proved the good working relationship and closeness between us.
"People do not know I was the only one he retained out of 19 members of the State Executive Council of the previous administration.
"In 2018, President Muhammadu Buhari requested him (Ganduje) to forward a nomination for a ministerial appointment. He forwarded my name and I passed the screening but the appointments were not made.
"The same year (2018), he (Ganduje) called and told me he was nominating me to be his deputy because he feels comfortable to work with me in developing Kano.
"From that moment till now, he has assigned me key responsibilities through which I have acquired experience in leadership and governance.
"I am indeed grateful for Governor Ganduje's mentorship, guidance and for reposing his confidence in me. I appreciate his support and for giving me opportunity to aspire for the governorship position.
"I assure you that my running mate and I will live up to expectations of Kano people.
"I call on all APC members to support us and work for the success of the paty during the elections," Gawuna stated.