Again, Atiku Abubakar Meets Wike As Battle To Emerge Running Mate Heats Up [Photos]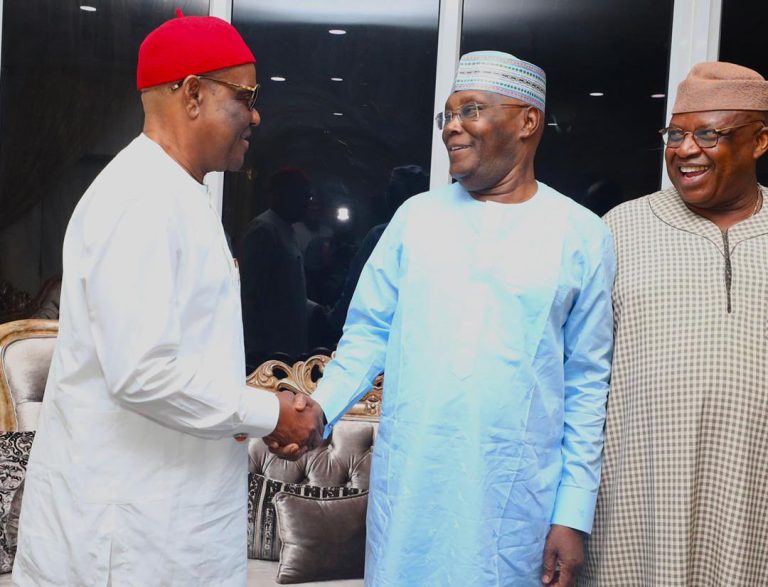 Former Vice President and Presidential candidate of the Peoples Democratic Party (PDP) for the 2023 election, Atiku Abubakar has met with Governor Nyesom Wike of Rivers State again.
TrackNews reports that Atiku, who defeated Wike and others to get the PDP presidential ticket last Saturday, had on Monday met with the Rivers State governor.
Wike alongside former Ekiti State Governor, Ayo Fayose, had received Atiku at his Abuja residence.
The duo on Wednesday met again in a move many believe is meant to mend fences as the 2023 general election draws nearer.
The new meeting was made known by the former Vice President when he shared pictures and a terse statement on his Twitter handle on Wednesday night.
"It was a pleasure to receive His Excellency Nyesom Wike in the company of notable leaders and officials of our great party, the PDP, at my residence today," he wrote.
"I am proud of the promises that this spirit of camaraderie holds for our party as a united front that guarantees victory in the next election to rescue the country."
TrackNews reports that the latest meeting between Wike and Atiku is coming at a time when plans are in motion to select the ideal running mate for the PDP presidential candidate.
According to various reports, the PDP leadership is considering paring Atiku and a serving governor from the South-South.
Sources at the PDP had stated that the search for a running mate for Atiku has kickstarted.
A source close to Atiku said at their inner circle, the Delta State Governor, Ifeanyi Okowa, was being considered to run as Atiku's number two.
"Except for last-minute change, we are looking at Governor Okowa for the position. He has consistently supported our camp despite all backlashes. He mobilised resources for us and ensured that all the delegates of his voted for us," the source, one of the leaders of the campaign team said.
But another source said Okowa as running mate is not yet a done deal, adding that "there is a division on it, some are saying him but others especially elders of the party, said Wike should be considered because of his performance at the primary."