APC won't get 25 per cent votes in states, claims Atiku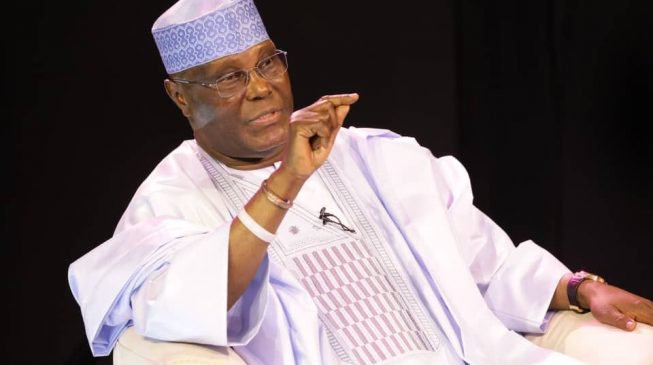 Peoples Democratic Party (PDP) presidential candidate, Atiku Abubakar, has predicted that the ruling All Progressives Congress (APC) will not get the mandatory 25 per cent votes in states controlled by the PDP in the 2023 presidential election.
He spoke yesterday at the party's national secretariat while addressing its governorship candidates who received their Certificates of Return.
He said: "The question of saying that we are going to give a quarter or so to the ruling party must not arise in this election.
"I want to assure all of you that we will work together as a team and make sure you are all brought back elected as governors in your respective states.
"I will ensure we work together as a team in every state of this country, to enthrone a PDP government".
PDP governorship candidate in Ogun State, Ladi Adebutu, who spoke on behalf of the candidates, vowed to defeat Governor Dapo Abiodun who is seeking re-election on the platform of the APC.
Adebutu said: "We know the journey is a long one. We still have many hurdles to cross but we are not perturbed by the task ahead because we are driven by the need to set our people free from the shackles of misgovernance.
"We take this as a challenge to work harder and we are particularly grateful to our people and our party for the platform. PDP has given us this opportunity to go forward and rescue our state."
Adebutu urged his fellow PDP candidates to reconcile with aggrieved party chieftains in their states, especially the aspirants that they defeated at the primaries.
He said: "It's now a duty for all concerned to go forward and do reconciliation and I can assure you that we have already embarked on that duty.
"We will continue to reach out to those that feel that they have a grouse. I am sure that with time, we shall have total reconciliation and we shall even extend hands of fellowship beyond the party and make it an inter-party thing.
"We can even see our brothers from other parties trying to join our party now and I am sure that after their convention, we shall be welcoming them."
PDP National Chairman, Dr. Iyorchia Ayu, expressed the confidence that the party will retain all the 13 states it presently controls.
He said: "Most of them performed very, very well. We don't have any fears that the people will vote them back to power or vote our candidates to power in those states where we don't have governors.
"People have seen the ineptitude, the incapacity of the APC-led administration from the governorship level to the Presidency and I am sure by next year people will be voting PDP so we are also very sure that we will capture most states."
Twenty-six of the 28 candidates showed up to collect their certificates of return.
The chairman said the remaining two states – Ebonyi and Kano – had some unresolved issues about their candidacy.