Ebonyi Will Never Be Part Of Biafra, Umahi Tells IPOB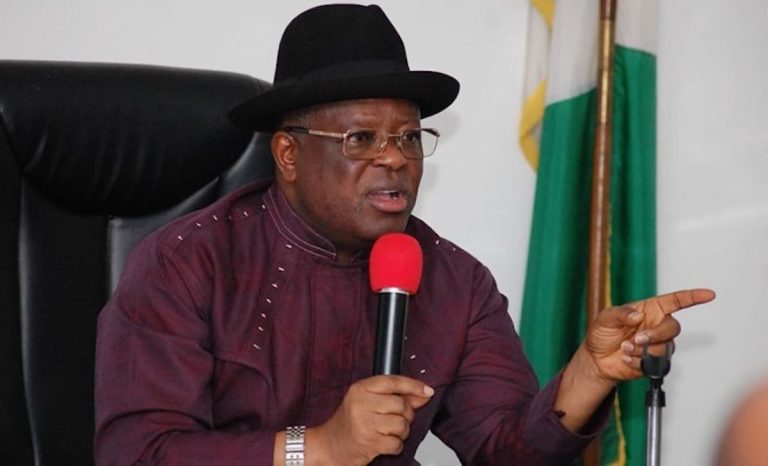 Governor
David Umahi

of Ebonyi State has told the

Indigenous People of Biafra

(IPOB) that his state will not be part of the struggle for a sovereign nation.

The Chairman of the South-East Governors' Forum and former Presidential aspirant asserted that Ebonyi people are marginalised and not regarded in the South East.

Umahi disclosed that the marginalisation of his people is the reason the state will not take part in the struggle for the actualization of Biafra.

He made this known on Sunday during a reception to welcome him back to the state after the recently-concluded All Progressives Congress (APC) presidential primary in Abuja.

He said: "In the comity of South-East, Ebonyi people are not regarded. I continue to say that Ebonyi will never be Biafra."

Tracknews reports that Nnamdi Kanu, who is in the custody of the Department of State Security (DSS), has been leading the fight for the actualization of Biafra for years.

In a series of interviews, Kanu claimed that the marginalisation of the South East by the Federal Government was the reason for their call for seccession.

Meanwhile, in a bid to end the rising insecurity in the South-West region, Governors of the zone have deliberated and resolved to regulate the operations of motorcycle riders popularly known as Okada riders.

The governors met on Sunday to discuss following the recent horror killings of worshippers at the St Francis Catholic Church in Owo, Ondo State.

Restating their commitment to protecting the lives of citizens and properties, the governors vowed to combat the threat of insurgency and terrorism in the region with every means possible.

At the meeting, the governors set up a security committee to look into the desirability and operations of okada riders in the region.