GOV AKEREDOLU RECEIVES VICE PRESIDENT OSINBAJO IN OWO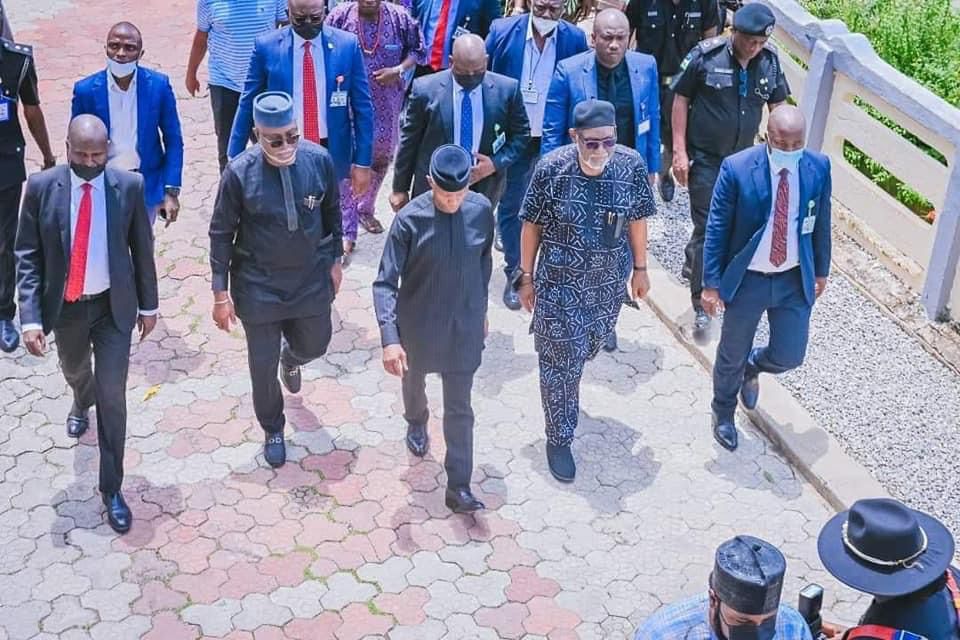 •Terror Attack, A National Tragedy- VP Osinbajo
•Flush Out Illegal Occupants In Our Forests – Olowo
•Be Calm, Perpetrators Will Not Go Unpunished- Gov Akeredolu
Ondo State Governor, Arakunrin Oluwarotimi Akeredolu,SAN, on Monday received Vice President, Professor Yemi Osinbajo in Owo.
The Vice President was in Ondo State to commiserate with the Governor and the people of the state as well as the Olowo of Owo, Oba Ajibade Gbadegesin Ogunoye.
Speaking at the palace of Olowo, Vice President Osinbajo described the terror attack as a terrible tragedy that must not happen again in Nigeria.
Professor Osinbajo noted that the President Muhammadu Buhari's administration remained committed to putting an end to the various security challenges in the country.
The Vice President, who also visited the scene of the terror attack at St Francis Catholic Church, Owa-luwa Street, said the perpetrators would be brought to justice.
"The terrorists who came here yesterday were not human being but animals. The incident was very terrible and it should never be allowed to happen again. There's no human being that will enter into the church and see what happened, that will not cry.
" I understand how you feel about the lives lost in the attack. Many have lost families, loved ones, and it is a loss to the country at large." He said.
The Vice President noted that when there are security challenges, the people must come together to fight for the peace of the country.
"Our country can be better, our country can improve, things can get better. It is possible. Devolution of power to State, that the state will have more control in terms of security, these are good things." He added.
The Vice President commiserated with the Governor, Ondo State Government, and Owo indigenes.
Responding, the Olowo of Owo, Oba Ajibade Ogunoye said it was an attack on Nigeria and not Ondo state alone.
He appealed to the federal government to review the security architecture of the country and flush out illegal occupants in the various forest reserves in the state.
Governor Akeredolu said the incident was first of its kind in the peaceful ancient town of Owo.
He urged everyone to remain calm, as all necessary actions will be taken to get the perpetrators.