Ondo Attack: Relatives converge at Federal Medical Centre, Owo in search of family members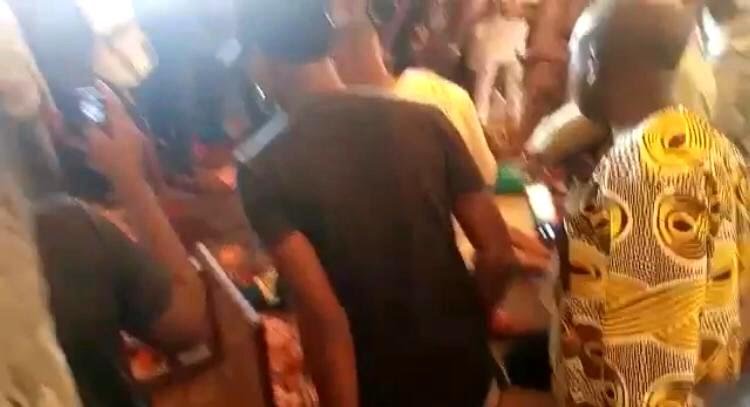 Some relatives and friends of victims of the attack on a Catholic church in Owo, Ondo State, have converged on the Federal Medical Centre, Owo, to check on their loved ones.
The St. Francis Catholic Church was on Sunday attacked with over 40 persons feared dead and others injured.
More details have emerged on the attack at the St Francis Catholic Church, Owo on Sunday, which left many people killed.
Owo is the hometown of the Governor of the State, Rotimi Akeredolu.
It was learnt that the incident happened immediately after the church ended its mass service.
According to eyewitnesses, the assailants attacked the church with guns and dynamite.
One of them noted that the attackers gained entry into the church through the fence and gate of the worship centre.
One of the eyewitnesses, who is a Reverend Father, Andrew Abayomi, said many worshippers were killed despite the security measures taken by the church.
"We were about to finish service. Immediately we asked people to leave, we began to hear the sound of gunshots and dynamite from different angles. We immediately asked people to run back inside the church and shut the door.
"We hide inside the church but some people had left when the attack happened. We locked ourselves in the church for about 20 minutes. When we heard that they had left, we opened the church and rushed victims to the hospital."
A youth who witnessed the incident said an Ice Cream seller was the first victim of the attacker.
He explained that the attackers gained access to the church with dynamite but shot the worshippers with guns.
He said, "I heard the sound of gunshots. They (the attackers) first shot the Ice Cream seller. They later went into the church and started shooting. They used the dynamite to gain entrance into the church.
"It happened immediately the Father announced that 'worship has ended, go home in peace'. No one was kidnapped. I drove the Father to hospital and brought him back."
A resident of the area explained that the attackers laid an ambush for the worshippers.
He said, "It happened in the broad daylight. Is it a crime to go and worship God? Look at both the old and the young that have been killed. If it is because of the 2023 elections, they should tell us what they want.