Reactions As Soludo's Taskforce Kills Dreaded UGM Commander In Anambra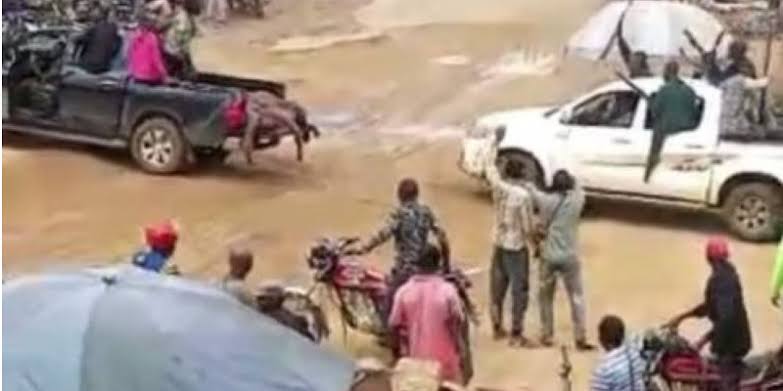 If reports filtering into the social media space are anything to go by, it appears that residents in Anambra can begin to breathe a sigh of relief over the security crisis ravaging the once peaceful Southeastern state.
According to a video shared online by a Facebook user identified as Ikechukwu Emeka Onyia II, a joint taskforce put together by the Charles Chukwuma Soludo Anambra government has recorded a major victory in its fight against the dreaded Unknown Gunmen (UGM).
For those who do not know, the former Central Bank Governor has been having a running battle with armed criminals running amok in the state since he took over from the Ifeanyi Obiano administration in March 2022.
Despite several pleas for peace and dialogue from Soludo, the hoodlums continued to wreak havoc in Anambra and its environs, killing, maiming, and kidnapping scores of innocent residents with reckless abandon.
This angered the governor deeply to the point that he declared an all-out war on the UGM and other criminal elements in Anambra. To match words with action, Soludo assembled a Joint-Taskforce comprising of the Nigerian Army, Department of State Services (DSS), the Nigerian Police Force (NPF), and local Vigilantes, to rid the state of the Unknown Gunmen and other militant gangs.
Judging from the video shared by Emeka Onyia on his Facebook page a few hours ago, the move is gradually paying off as the task force recorded a major victory as a sizable number of the terrorists were killed during a raid at one of their camps in the Osumogho community In the Ihiala Local Government Area of the state on Friday.
According to the Facebook user, a dreaded commander of the group known as 'Double Lion' was also killed along with his minions during the raid.
In the footage, several vehicles belonging to the task force were seen loaded with corpses of the hoodlums as the convoy passed through a community.
Residents in the community could also be heard cheering the security agents who replied with gunshots in the air.
"Anambra State Govt-backed Joint Security Taskforce yesterday recorded a big success in their fight against Unknown Gunmen as scores of them were killed including the leader of the deadliest Osumogho camp of the Unknown Gunmen, Double Lion.
The task force includes the DSS, Army, Police, and Vigilante group. All these happened in Ihiala LGA which was a major settlement for the Unknown Gunmen in Anambra State until late when the govt. started operations to flush them out of the state.
The Osumogho camp has also been destroyed by the Govt. Joint Taskforce against Unknown Gunmen.
Repent or get crushed by the people who have resolved to take their state back!" Onyia wrote.