Shettima Apologizes To Osinbajo For Liking Him To A Gala, Ice Cream Seller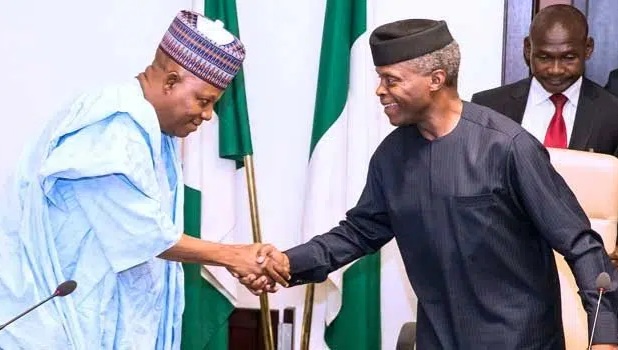 Former Governor of Borno State, Kassim Shettima on Sunday apologised to the Vice President, Yemi Osinbajo for liking him to an ice cream seller for contesting against the national leader of the All Progressives Congress, Bola Tinubu.
Shettima while speaking on his earlier statement said it was not to claim that Osinbajo and Lawan are not worthy of the presidency
He said his comment was to clarify that they are non-threatening contenders" to Bola Tinubu, under the ruling party.
The former governor had stated that the character can't earn him the Presidency but should be selling Gala and popcorn.
Shettima title reacting to his earlier comment released a statement titled: "My Channels TV Interview Taken Out of Context" reads partly: "When I appeared on Channels TV last Thursday amidst the tension rippling through our political arena, it was to underline the promise Bola Ahmed Tinubu's presidential bid held for those yet to establish the certainty of the hurdle ahead of the APC. I never set out to denigrate the personality of any aspirant and not that of my dear friends and allies.