Kenya, Bangladesh Sign MOUs to Strengthen Ties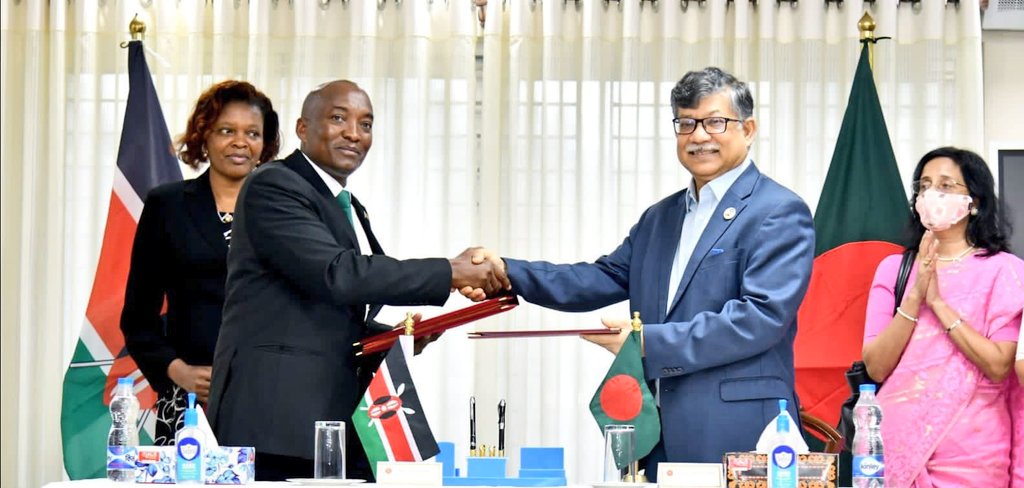 James Oyinkuro Reports
Two Memorandums of Understanding, MOUs, on Political Consultations and the Foreign Service Academies of the two nations have been signed by Kenya and Bangladesh.
The MOUs were signed in Dhaka, Bangladesh, by Amb. Masud Bin Momen, the Foreign Secretary of the Ministry of Foreign Affairs for the Government of the People's Republic of Bangladesh, and Amb. Moi Lemoshira, the Director General of Bilateral and Political Affairs for the Republic of Kenya.
The MOUs aim to strengthen the existing ties of friendship between the two nations.
According to a release from the Ministry of Foreign Affairs (Kenya), the Political Affairs agreement would create a framework for ongoing diplomatic discussions between the two nations by assessing the success of their current bilateral cooperation and finding new areas of mutual interest.
Particularly, the MOU on discussions will permit regular exchange of opinions on bilateral issues as well as regional and global concerns.
The Foreign Service Academy agreement aims to exchange teaching methods, foster study and research, exchange faculty members and specialists, organize programs, and explore newer opportunities.
The first Foreign Office Consultations were held between Bangladesh and Kenya earlier on Tuesday at the Foreign Service Academy in Dhaka. Nairobi and Dhaka's revitalized bilateral ties and organized engagement are based on the conclusions of this historic bilateral meeting.
In addition to other business-friendly measures, the extremely successful summit decided to prioritise trade and investment cooperation and undertook to draft and execute a revised Joint Commission for Cooperation agreement and bilateral agreements on avoiding double taxation.
The two delegations also reiterated their shared commitment to forging greater ties in the fields of agriculture, tourism, the blue economy, and renewable energy. The nations decided to exchange technical teams and business officials right away in order to formalize and expedite action to advance shared interests.
Speaking to the Bangladesh Press after the meeting, Amb. Lemoshira stated that the inaugural session presents an opportunity to discuss in-depth issues of mutual benefits and identify new areas of future cooperation especially in the areas of double taxation, ICT and Agriculture.
Since Bangladesh's independence in 1975, Kenya and Bangladesh have had friendly, long-standing diplomatic relations. Since 1978, Bangladesh has maintained a permanent diplomatic post in Nairobi, while Dhaka is affiliated to Kenya's High Commission in New Delhi. Kenya has chosen Mr. Shafiullah Rana, a prominent businessman with interests in several different areas, as an Honorary Consul located in Dhaka.
Amb. Lemoshira was joined by a number of officials, including Ms. Winnie Mwanjala, Director, Asia, Australasia and Pacific Island Directorate, Amb. Irene Oloo, Deputy High Commissioner of Kenya to New Delhi, Amb. Stella Orina, Ag. Director General, Foreign Service Academy, and others.