Remains of Patrice Lumumba – A Gold-crowned Tooth Buried In DR Congo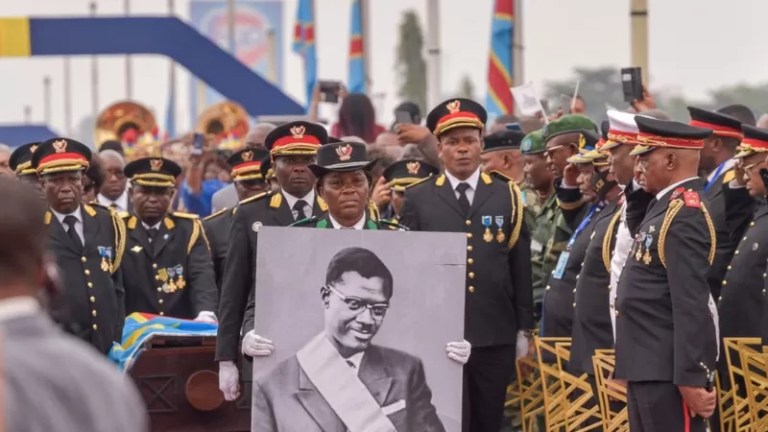 More than sixty years after his assassination, the last remains of the independence hero of the Democratic Republic of Congo, Patrice Lumumba has been buried in a grand ceremony.
The tooth is the only part of Lumumba's body still in existence more than six decades after he was killed and his body was dissolved in acid, in one of the most grave stories of colonialism.
The tooth was returned to the Congolese government and the Lumumba family with the rights deserving of a national hero given to the remains as it was placed in a coffin which toured the country.
Congolese paid their last respects to Lumumba as his remains toured the country, and was taken to historic sights during his lifetime.
Felix Tsishekedi, the Congolese President, led the private service which had other dignitaries in attendance before the coffin was taken to a mausoleum built for Lumumba's remains.
One of Africa's most vocal statesmen, Lumumba fought against colonialism and helped DR Congo achieve independence in 1960. His efforts were not welcomed by the Belgian colonialists at the time as he spoke openly against the Belgians' approach, a feat hardly seen of a black man at the time.
Lumumba, 34 at the time, was a major voice on the continent against white colonial forces who felt threatened by his presence and masterminded his death by firing squad.
His body was buried, dug up, and taken to a farther distance, laid to earth and exhumed again before being chopped to bits and getting dissolved in acid.
His tooth was extracted by the Belgian Police Commissioner, Gerard Soete who later confessed about what he held from Lumumba's body.
Soete also mentioned another tooth and two of the independence hero's fingers as being kept but they are yet to be found.
Soete in a 1999 documentary described the remains of Lumumba as "a type of hunting trophy", a statement dubbed disrespectful to the black race.
Soete's daughter, Goedlieve made the tooth available in 2016, when she gave an interview to a Belgian magazine.
She said she had saved the tooth despite many things getting thrown away after her father's demise in 2000.
A Belgian court had ruled that the tooth be returned to the Lumumba family while the Belgian King, Philip also admitted that the country's colonial regime was racist.