2023: Babatope warns Wike and others that if they reject the PDP's victory, God will judge them.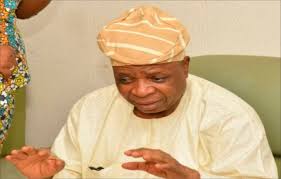 Ibekimi Oriamaja Reports
Ebenezer Babatope, a former minister of transportation and current member of the PDP's board of trustees, has warned PDP supporters against doing actions that could make it more difficult for the party to unseat the current administration in 2023.
Nyesom Wike, the governor of Rivers State, was given this warning as the party leader urged him to quit making unreasonable demands of the party.
Following events at the PDP's most recent national convention, Track News knows that Wike was upset by the party's leadership and its 2023 presidential contender, Atiku Abubakar.
Even still, Atiku acknowledged that Wike will still support him in the upcoming election and is not leaving the party as some have predicted.
Babatope, who spoke with The Tracknews over the weekend in Ibadan, asserted that God will punish any party member who seeks to thwart the party's success in the upcoming election.
The party leader vehemently denied that Wike had the right to demand that Atiku serve only one term in office if he wins.
Babatope responded that politicians may meet wherever they wished and could do whatever they pleased on the latest meeting in London.
He nevertheless pleaded with party members not to endanger the party's chances of winning in 2023.
He declared: "God will condemn them if they attempt to undermine the triumph that God Almighty has already granted the PDP in the election of the next year. To maintain the party's win, we must all put forth effort. Who knows who will be alive tomorrow in regards to the demand that Atiku serve one term?
Who will be living tomorrow morning is unknown. Why is he (supposedly) advocating that Atiku serve just one term? God Almighty is the only one who has the authority to decide who shall live or die. It is the responsibility of God, who created all things. Therefore, no one should try to play God.
I'm making an appeal to Wike to please put an end to all of this and calm down so that the party can maintain peace.