2023: Gov. Wike approaches Atiku with requests to resolve the PDP crisis.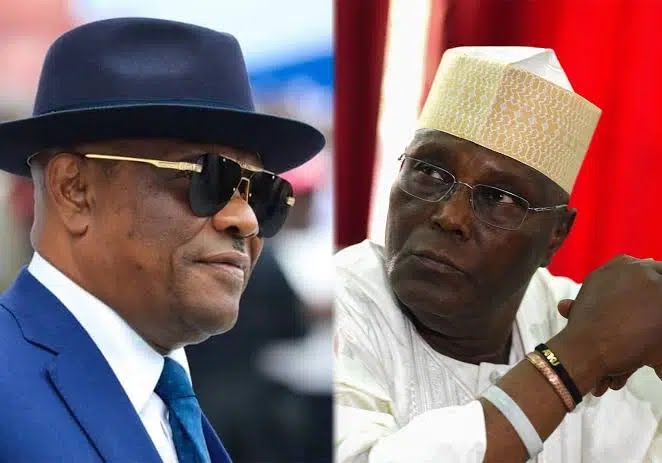 Ibekimi Oriamaja Reports
The alleged requests that Nyesom Wike, the governor of Rivers State made to Atiku Abubakar, the Peoples Democratic Party (PDP) presidential candidate, have been made public.
Iyorchia Ayu, the party's national chairman, was reportedly forced to resign by the Wike administration, according to Track News.
Additional sources state that Wike's team asked for Ayu to be given a dignified leave and accommodated in the future PDP cabinet should the PDP win the 2023 presidential election.
In addition, the Wike government asked that it be given the opportunity to choose Ayu's replacement and that they come from the South-West.
This is in response to speculations that, following their London reconciliation meeting, Atiku had acceded to Governor Wike's demands.
The question of whether Atiku had agreed to hold the office of president for a term in order to assist a transfer of power to the South in 2027 remained unanswered.
The camp also requested the presence of the Senate President and a few other key National Assembly officials.
Members would also be given crucial cabinet posts as well as the leadership of Federal parastatals and agencies if the Wike camp prevails in 2023.
Atiku's campaign will gain marketing assistance and logistical support from Governor Wike's camp in exchange for the demands made by that camp.
A source who spoke with Tracknews about the development said, "It was also decided that media hostilities should halt, and this was partly responsible for the statement Atiku led his Media Office to release on Thursday."
In addition to being outnumbered, Atiku had limited room for maneuvering. Mr. Peter Obi and Asiwaju Ahmed Tinubu, candidates for the Labour Party and the All Progressives Congress, did not help.