4+4 Prosperity Movement Holds State Executive Committee (SEC) Meeting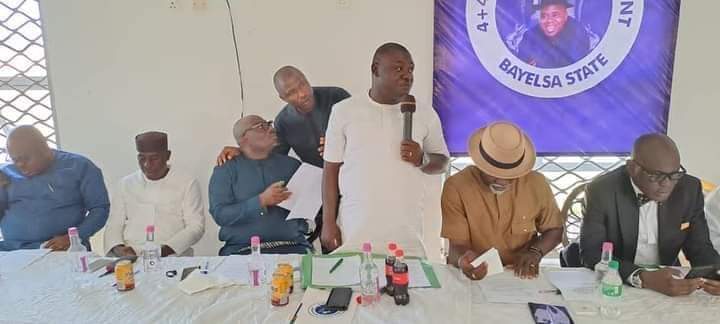 The 4 + 4 Prosperity Movement has held its first State Executive Committee (SEC) meeting.
The meeting which took place on Thursday the 4th of August 2022 at its Secretariat in Okaka, Yenagoa, the Bayelsa State capital, had in attendance the creme de la creme in Bayelsa State politics, particularly those of the People's Democratic Party (PDP) family, who have firm believe in the agenda of the Prosperity Government of His Excellency Sen. Douye Diri.
The meeting was to further strengthen the focus of the group; that the popularity of the Prosperity administration led by His Excellency Sen. Douye Diri is sustained amongst the Bayelsa populace to ensure the People's Democratic Party maintains its dominance of the Bayelsa political space and retains the seat of power beyond 2023.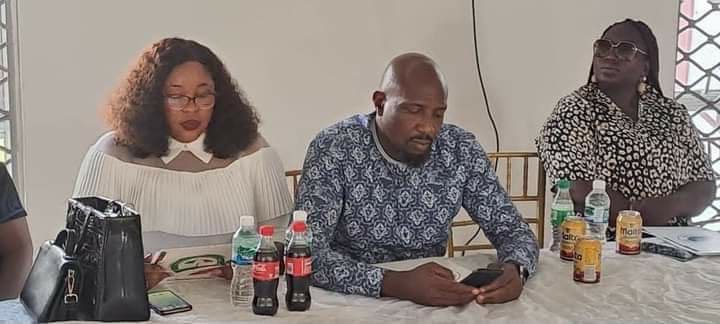 At the meeting, both old and new members restated their 100% commitment, dedication, loyalty and unflinching support for Governor Diri. Members also expressed their resolve to galvanize and mobilize support from across the nooks and crannies of the State, preaching the good news of prosperity to all Bayelsans and non Bayelsans alike.
Highpoint of the meeting was the consideration and adoption of the preliminary report on preparations towards the proposed inauguration of the 4 + 4 Prosperity Movement, commissioning of Secretariat and decoration of Grand Patron, presented by the inauguration planning committee. The meeting also considered and ratified appointment of the executive members of the Movement for Sagbama, Southern Ijaw, Ekeremor, Brass, Yenagoa and Ogbia Local Government Areas.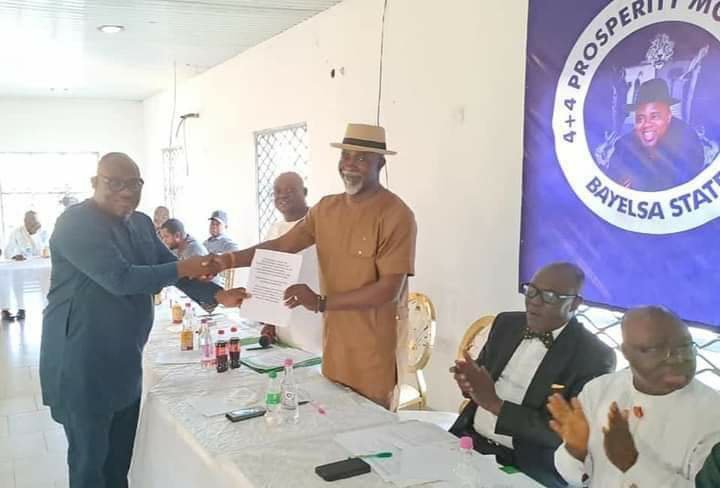 The meeting also approved the setting up of a fund raising committee with the Managing Director of Bayelsa Electricity Board Engr. Olice Kemenanabo as Chairman, Honourable Attorney General of Bayelsa State Mr. Biriyai Dambo SAN, Technical Adviser to the Governor on Protocol Mr. Joe Waribagha, Secretary of the People's Democratic Party (PDP) South South Zone Chief Felix Omemu and Technical Adviser to the Governor on Partnership Mrs. Ebizi Ndiomu Brown as members, while a former Senior Special Assistant to Ex President Goodluck Jonathan on Domestic Affairs Hon. Dr. S.G Obriki is to serve as Secretary.
The State Executive Committee commended the efforts of the management team of the movement ably led by its Director General, the member representing Nembe Constituency 1 in the Bayelsa State House of Assembly Hon. Ebi Ben Ololo in the way and manner it has continued to manage the affairs of the organisation since inception. The meeting was attended by over 100 grassroot political leaders across the 8 Local Government Areas of the State.