Explosion Near RCCG Camp Rocks Gas Plant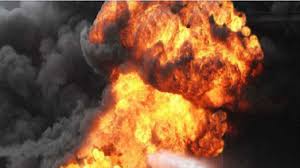 Ibekimi Oriamaja Reports
On the Lagos-Ibadan expressway in Ogun State, a gas plant next to the Redeemed Christian Church of God (RCCG) camp experienced an explosion yesterday.
The Federal Fire Service in Ogun State's Public Relations Officer, Ayansiji Oluwasegun, acknowledged that the situation was under control despite the fact that the origin of the fire outbreak is still unknown.
The firefighters were controlling the situation, Ayansiji added.
The RCCG sympathized with the gas plant's proprietors in the meantime. "The RCCG leadership expresses sympathy to the victims of the tragic gas explosion that took place in the early hours of August 29, 2022.
This incident, which the RCCG Fire Service, Ogun State Fire, and Lagos State Fire Service worked together to put under control, "took place in the gas depot not far from the Sagamu-bound traffic between the Car Park C gate and the main gate of the Redemption City."
As stated in the letter, the church made it clear that, contrary to popular belief, the tragedy occurred entirely outside of Redemption City.
The statement said, "Our fire service personnel only responded as a part of our neighborhood neighbor support.
"We praise God that the issue has been contained. We would like to let everyone who lives in or visits the Redemption City know that there is no need to be alarmed in any way and that they are all free to engage in lawful and godly pursuits.