In contrast to Osinbajo, Oshiomhole stated that Tinubu could not be held accountable Buhari administration.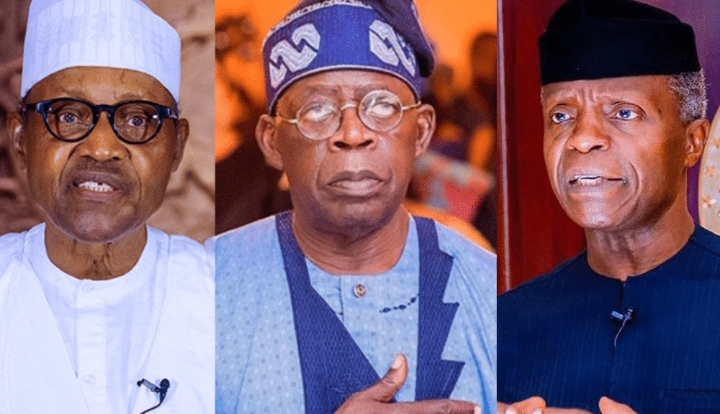 Ibekimi Oriamaja Reports.
It would be erroneous, in the opinion of former All Progressives Congress (APC) national chairman Adams Oshiomhole, to hold Asiwaju Bola Tinubu responsible for the failures of President Muhammadu Buhari's administration.
He asserted that it would also be wrong to commend Tinubu for any successes the Buhari administration may have achieved.
Editor Track News is. Oshiomhole made the submission on Wednesday during his interview appearance on Arise TV.
Because Tinubu was never involved in governance during the Buhari administration, didn't take part in the implementation of any policies, and didn't oversee any contracts or projects, he believed it would be unfair to either praise or criticize Tinubu for the accomplishments of the current administration.
A senior member of the Buhari administration, such as Vice President Yemi Osinbajo, might be held accountable for the policies and initiatives he oversaw while serving in that capacity, the former governor of Edo State claimed. This contrasts with Tinubu.
In his words: "I think it's important to take someone's contribution into consideration when deciding whether to hold them accountable or show appreciation. Asiwaju really asserted that he was the only co-founder of the APC. I participated in the formation of the APC alongside Fashola and other Governors. But if he never participated in politics, never held public office, and never finished a government project, how can you give him credit? In any case, you cannot credit him. I think that this is only right."
Osinbajo Is Not Like Tinubu
"He is not like the Vice President, who claimed that the President picked him to be the team's leader in terms of the economy. Along with the national economic team required by the constitution, the administration also put together another team under his leadership. So, you can ask him to outline a certain economic strategy."
You cannot hold someone who has never participated in politics in any capacity accountable or laud them for the outcomes of governmental acts.