Just in: Level of insecurity discussed by the Senate and Service Chiefs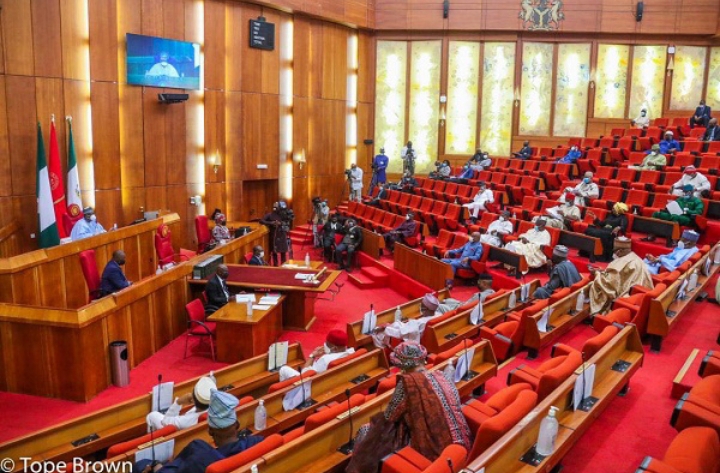 Ibekimi Oriamaja Reports
The leadership of the Senate is meeting with the heads of the security services, including the Inspector General of Police, the Director General of the Department of State Services (DSS), the Director General of the National Intelligence Agency (NIA), and others.
The meeting was scheduled at the request of the Red Chamber's body of top commanders, according to Senate President Ahmad Lawan.
He said that after the introductions, the meeting would take place behind closed doors so that those with the highest levels of security could speak candidly.
Given the scope of the present security concerns, he informed the Service Chiefs that it was required of them to take immediate action and make major reforms.
We had thought that by now the country's security situation would have improved, Lawan remarked, given the number of resources already invested by the present administration.
He stated that the goal of the meeting was to "delve into where we are today, and perhaps this current place where we are is probably the most terrifying because it looks like there is nowhere to hide or nothing to hold.
''
While there is insecurity everywhere, it is especially noticeable where the government is located or how much protection is provided to the head of state.
Lawan continued, "So, we really need to review and see what else we need to do and how different we need to do it."
In his opening remarks before the meeting went into executive session, General Lucky Irabor, the Chief of Defence Staff, said that "quite a lot has happened and quite a bit is being done to address the imbalances within the security environment."
See also:
Ibrahim Gobir is the next leader of the Senate.
Irabor said, "I would especially like to thank the Senate President and the Senate leadership for this invitation. I believe that this is an internal debate based on common concern regarding extremely important issues that affect our country.
Key senators present include Lawan, Senate Minority Leader Philip Aduda, Senate Deputy Leader Ajayi Boroffice, Senate Leader Ibrahim Gobir, and Senate Minority Whip Chukwuka Utazi.
Additionally present were Senators Aliyu Wamakko, Yusuf Yusuf, George Sekibo, and Ibrahim Danbaba.
The COAS of the Army, Lieutenant General Faruk Yahaya, the COAS of the Navy, Rear Admiral Awwal Zubairu Gambo, and the COAS of the Air Force, Air Marshal Ishiaka Oladayo Amao, were all present at the meeting in addition to the CDS.
The conference is being attended by Ahmed Abubakar Audi, the Commandant General of the Nigeria Security and Civil Defence Corps, Usman Alkali Baba, Yusuf Magaji Bichi, Ahmed Rufai Abubakar, the Director General of the National Intelligence Agency, and Usman Alkali Baba, the Inspector General of Police.
Because Babagana Monguno, the national security adviser (NSA), was known to attend the Federal Executive Council (FEC) meeting every week, he was represented at the meeting.