PDP Chairman speaks on 'punishment' for Wike in 2023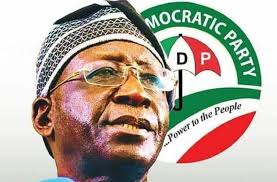 By Adeleye Kunle
Chris Hassan, Chairman of the Peoples Democratic Party (PDP) in Plateau State, has urged party members not to crucify Rivers State Governor Nyesom Wike over his meeting in London with Bola Tinubu, presidential candidate of the All Progressives Congress (APC).
According to Track News, the crisis in the PDP erupted after Atiku Abubakar, the party's presidential flagbearer for the 2023 election, chose Delta Governor Ifeanyi Okowa as his running mate.
Party stakeholders had expressed concern that Atiku had overlooked Wike, who was said to be the preferred candidate for the position by a majority of the PDP's National Working Committee (NWC) members.
Both men met weeks ago but were unable to reach an agreement.
In an interview with Punch published on Thursday, Hassan said it was incorrect to label Wike's meeting with Tinubu as anti-party when the Rivers governor had not stated that he was working to actualize the former Lagos governor's presidential ambition.
"I don't get it when people read negative meaning every time Wike meets people as if he no longer has the right to meet with anyone," Hassan said through the state Publicity Secretary of the PDP, John Akans.
"Wike's meeting with Tinubu in London does not constitute anti-party (activities) in my opinion because he has not declared support for him." People should be aware that he has the authority to meet with anyone, including opponents.
"I believe Wike knows what he is doing and that it is for the benefit of the PDP." Yes, there are issues, but he loves the PDP and has invested heavily in it, and I doubt he will abandon or work against the interests of the party he has worked so hard to build."
The article first appeared on Track News.