questions raised by Wike during reconciliation meetings will be revealed.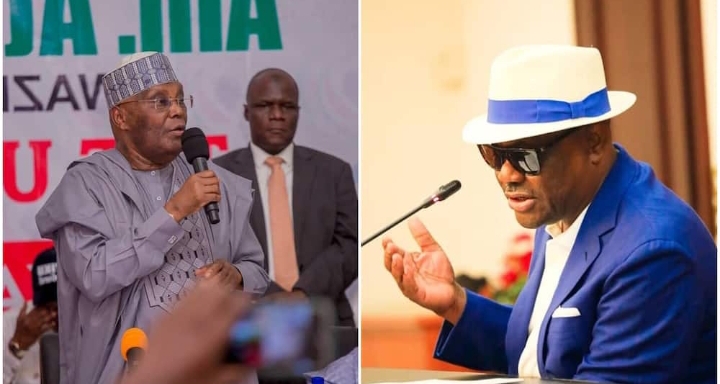 Ibekimi Oriamaja Reports
Some questions allegedly posed to Peoples Democratic Party (PDP) Presidential candidate Atiku Abubakar by Rivers State Governor Nyesom Wike have surfaced.
According to Track News, the two party leaders have been at odds since Delta State Governor Ifeanyi Okowa was announced as Atiku's running mate for the 2023 elections.
Atiku and Wike met yesterday in Abuja at the request of the party's Board of Trustees (BoT), which was led by Senator Walid Jibrin.
Despite their best efforts, a source told the Daily Post that the meeting did not result in a truce.
At the meeting, which was held at the home of former Information and Culture Minister Prof. Jerry Gana, Atiku reportedly boasted that the PDP could win the election in Rivers State without receiving many votes.
According to reports, the presidential candidate said there was no reason to be concerned if Wike refused to support him in the upcoming elections.
According to Atiku, the PDP is in crisis because Wike monetized the presidential primary.
Wike, on the other hand,
On the other hand, Wike, who was privy to what transpired at the BOT meeting reportedly lamented about Atiku's recent comment about him.
"Wike joined issues with Atiku over his recent comments or pronouncements at the second meeting," the source who pleaded anonymity said.
Speaking further, the source mentioned that Wike threw out some questions to Atiku at the meeting, many of which the Adamawa State-born politician reportedly said 'NO' to.
Wike, according to the source, asked Atiku the following questions: "Did I tell you I want to be the next Minister of Petroleum Resources?
"Have I not been a minister before?
"Do you control Lagos and Kano, like President Muhammadu Buhari, if you don't need Rivers?
"Have I asked for anything to support you?"
"Throughout the meeting, Wike was busy with posers to clear some impressions from Atiku's camp in public space. Obviously, he was uncomfortable with some comments attributed to Atiku and some of his strategists.
"But the presidential candidate of the PDP was calm in managing the situation."
It was gathered that Atiku and Wike 'played' a hide and seek game over a session with the BoT. However, BoT members have consistently pleaded with Atiku to reconcile with the Rivers governor.
Despite receiving invitation letters from the board, neither Wike nor Atiku expressed interest in a face-to-face meeting before yesterday, according to Track News.