200 million naira frauds allegation Rocks UCTH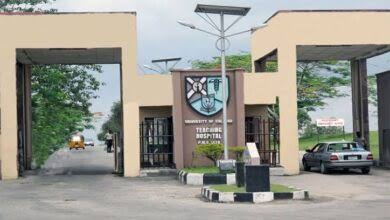 Agency Report
The Board of the University of Calabar Teaching Hospital UCTH has distanced itself from the allegations raised by a law firm in it's petitions to ICPC , EFCC and others against the Chief Medical Director, CMD, Prof Ikpeme Ikpeme.
It was learnt that some of the Board members who spoke feigned ignorance of the petition while others said they can't comment on the matter because they were also invited to give further explanation to the anti graft agencies whom the firm copied the petition.
Findings showed that amongst the allegations raised by the firm include a N39 million naira contract for and project that had previously been executed.
However, some of the board members told said that they would be having a meeting as a board in a few days.
They revealed that there will be further clarifications after the meeting, adding that they cannot comment on anything for now.
One of the Board member , Mr Segun Omolara said he was not aware of the petition until journalist reached out to him on the matter .
"I am seeing this petition for the first time and I won't be able to make any comment because of the second prayer that calls for the invitation of the Board members for clarification," he said.
Another member who didn't want his name in print said that he has gone through the petition but cannot readily speak on the issue of re- awarding of contracts.
"I have gone through the petition and I cannot readily speak on the issue of re-awarding of a particular contract you raised until I go through the minutes of the board meeting.
"If the contract award passed through the board it will definitely be there but as i speak, am in Lagos and not in Calabar and as such, can't check the minutes now.