2023: FG Must Not Interfere With INEC's Business – Ortom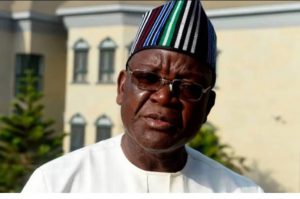 Ibekimi Oriamaja Reports
Samuel Ortom, the governor of the state of Benue, has asked the federal government to conduct the general election in 2023 in a transparent and fair manner.
This was said by the governor on Wednesday while he was in Washington, US, for the International Republican Institute (IRI).
According to Ortom, there are indicators that the government is interfering with the Independent National Electoral Commission's operations.
According to the governor, the opposition parties are concerned that the incumbent party would find excuses to maintain its hold on power.
According to Nathaniel Ikyur, the governor's main press secretary, "the umpire appears to alter the goalpost to fit the sloppiness of the ruling party in observing its ostensibly rigid timeline deadlines," which is cause for alarm.
Ikyur added that Governor Ortom referred to the All Progressives Congress (APCsame-religion )'s ticket as "desperate and insensitive."
He claimed that the Buhari administration was clearly not acting in the best interests of Nigeria and her population, which was paving the way for instability in 2023 and having an impact on the entire world.
https://www.thecable.ng/2023-fg-must-not-meddle-in-affairs-of-inec-says-ortom/amp