2023: Tinubu's allies include certain PDP governors and leaders — Source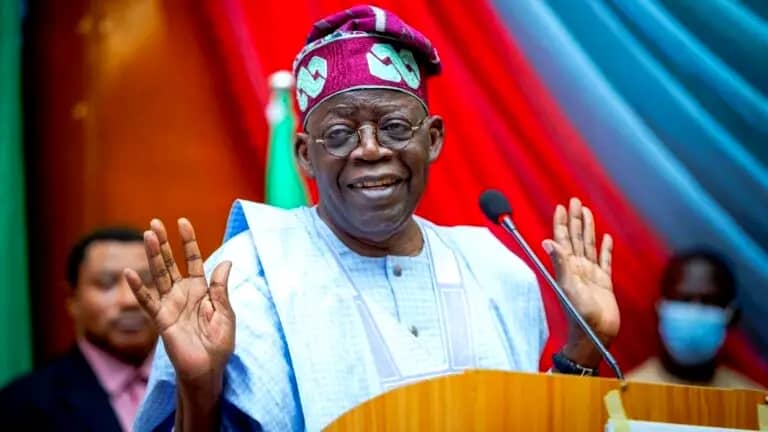 Ibekimi Oriamaja
Bola Tinubu, the All Progressives Congress's (APC) presidential candidate, may stand to gain from the crisis engulfing the Peoples Democratic Party (PDP), according to reports that certain PDP governors and leaders have vowed to support him in the 2023 election.
You may recall that there has been a tense relationship between Governor Nyesom Wike of Rivers State and Alhaji Atiku Abubakar, the PDP presidential candidate, over calls to have Senator Iyorchia Ayu, the party's national chairman, removed.
Along with others, Governor Seyi Makinde of Oyo State and Chief Olabode George, a former deputy national chairman of the PDP, have that Ayu be fired.
This occurred on the same day that the APC presidential candidate named Ondo State Governor Rotimi Akeredolu as the South-West Zonal Coordinator of his presidential Campaign Council.
Similar to this, the Patriots Roundtable, a pan-Nigeria organization, yesterday vowed to back Tinubu and Senator Kashim Shettima, who is running as his running mate.
Several PDP governors and leaders who support Tinubu— Source
Some PDP governors and leaders are rumored to have agreed to support Tinubu in the upcoming presidential election.
Some PDP governors and leaders have vowed to support Tinubu's candidacy if the PDP issue persists in light of the escalating conflict that is roiling the PDP.
The potential collaboration with Tinubu was confirmed by a source familiar with the APC's operations, who stated, "Of course, it is genuine."
The insider stated: "You should be aware that not all PDP governors will back Atiku based on how the PDP is managing its crisis. It is both obvious and glaring.
That is untrue; Atiku's ally
However, a supporter of the former vice president, who requested anonymity, shot down the rumor, declaring "that is not real; there is no truth in that at all."
Akeredolu S-West Campaign Coordinator is appointed by Tinubu
Asiwaju Tinubu, meanwhile, stated in a letter dated August 8, 2022, that Akeredolu merited the appointment because of his outstanding political accomplishments and the exceptional leadership he has shown while serving as governor of his state and as a party member.
In a letter, the Tinubu/Shettima Presidential Campaign Council officially announced that you had been named the Zonal Campaign Coordinator (South-West).
"Given your tremendous political accomplishment and the excellent leadership you have shown as the governor of your state and as a party member, this appointment is proper and fitting.
"We are grateful that you have joined our campaign team. We know you will give your all in this new role as we conduct an efficient, message-driven campaign that will lead us to victory in the 2023 presidential election," the statement reads.
The Tinubu-Shettima ticket will advance Nigeria's indivisibility, says Group
Also speaking through its National Coordinator, Prince Uthman Shodipe-Dosunmu, The Patriots Roundtable stated that after careful consideration and in accordance with their belief in the indivisibility of the Nigerian unity, they chose to align themselves with the Tinubu-Shettima campaign.
According to Shodipe-Dosunmu, they were prepared to converse without prejudice, argue without animus, and wrestle in the intellectual ring of ideas and ideals with a deliberate sense of patriotism.
They are renowned for equity and fairness, he continued. Without showing preference to any tribe or region, they will work to create unity among our various union members.
As an Independent Support Group, "we will henceforth advocate with vigor and assertiveness for the Tinubu-Shettima dream ticket, ultimately believing that this dynamic duo is born out of an inherent undying idealism that will mend the wounds of old, heal the broken places, rectify the ancient wrongs, and pull our nation out of the present varied challenges."
He warned every group member across the nation that the path ahead would be difficult and challenging.
There will be doubters and evil envious and recidivist actors, he said. Provocateurs of destruction will pretend to be salvaging insignia.
The Patriots Roundtable leitmotif is, "This. We have entered the fray in an effort to inform and direct, contribute to and support, build and enhance the national democratic space amid the clamor and competing ideologies regarding the Nigerian journey as our country pivots toward the general elections in 2023. We're prepared. We have demonstrated that we are unwavering in this national struggle, steadfast, focused, and firm.