A BoT member chastises Atiku and others for favoring Tambuwal over Ayu.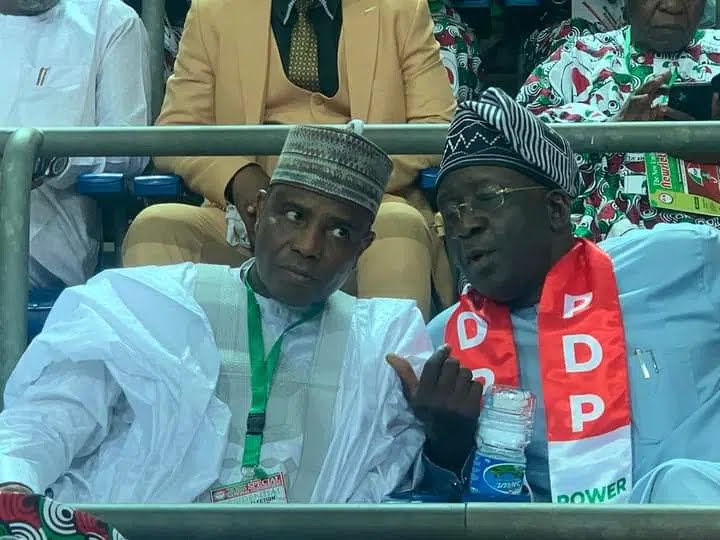 Ibekimi Oriamaja Reports
Visitor Aminu Tambuwal is hailed as a national convention hero by PDP National Chairman Iyorchia Ayu and Aminu Tambuwal.
One of the party's Board of Trustees has criticized the Peoples Democratic Party's (PDP) Presidential Campaign Council (BoT).
Aminu Tambuwal, the governor of Sokoto State, and Atiku Abubakar, the PDP's presidential candidate, have reportedly been named as the campaign's directors general. They also named Udom Emmanuel, the governor of Akwa Ibom State, as the campaign council's chairman.
In an interview with Track News , the BoT member questioned the composition of the PDP campaign council, stating it was an attempt to discredit Senator Iyorchia Ayu, the party's national chairman.
The party leader, who spoke on the condition that his identity not be revealed, said: "I think they are undermining the national chairman, whose job it is to lead the national campaign, by appointing a governor to monitor the campaign. It is an oddity. When we get to a campaign stop, will the governor raise the candidate's hand?
They are making more mistakes and exacerbating their mistakes. They believe that it doesn't matter what posture we in the South West are seeking since they don't want to face the truth. Why are they acting in that way? The chairman speaks at each campaign event and also hands out party flags.
"You establish a campaign council, and the national chairman is placed under the Director-General of the campaign council, who serves as an administrative official. When they get to the Villa, will they behave similarly?