ADC suspends Kachikwu, its presidential candidate.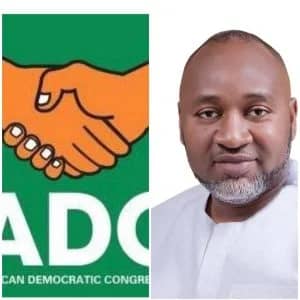 Ibekimi Oriamaja Reports
Dumebi Kachikwu, the African Democratic Congress's (ADC) presidential candidate, has been expelled from the organization.
The party accused Kachikwu of making and disseminating a false, foolish, and defamatory film in a statement released on Saturday and signed by Dr. Bamidele Ajadi, the party's Deputy National Chairman (Politics), among other transgressions.
Ajadi disclosed that the choice was made following a National Working Committee (NWC) emergency meeting on Friday, September 2, 2022.
The party was adamant that Kachikwu's actions "smacked of crass irresponsibility, callous indiscipline, false scandalization and blackmail and entirely unsuitable of someone who wants to be President of Nigeria," and that they were not acceptable for a candidate for that position.
"The NWC viewed with great concern the baseless and defamatory video produced, released, and distributed by Mr. Dumebi Kachikwu, which was intended to impugn and disparage the integrity and image of an African Democratic Congress that is peaceful and transformation-oriented, as well as its national officers."
The party pointed out that Kachikwu's remarks in the aforementioned video went against both the particular clause of Article 16 of the ADC Constitution and the principles and ideals upon which ADC was based.
Quoting the party's constitution, Ajadi said: "Act(s) conduct or utterances likely to bring the party into hatred, contempt or ridicule; engaging in dishonest practices, defrauding the party, its members or officials; engaging in anti-party activities; unauthorized publicity of Party dispute or fractionalization or creating parallel Party organ(s) at any level; engaging in any other activities likely to cause disaffection among Party members or likely to disrupt the peaceful, lawful and efficient conduct of party business; belonging to any such factional group or organ; collusion or conspiracy to convene unauthorized meetings, shall constitute acts of gross misconduct."
Ajadi stated that the NWC firmly feels that to disparage the character of the founders and funders of ADC—who have toiled assiduously to create an admirable brand of which Nigerians are proud and under which numerous luminaries have run for office—smacks of blatant misconduct.
The party pointed out that the NWC had previously ignored a number of actions, writings, and statements meant to disparage the ADC national officers in order for peace to prevail.
The party continued, "The NWC further highlighted that he has failed, disregarded, and/or refused to share with the party any meaningful, constructive, or realistic Presidential Campaign Roadmap for the next Presidential Election since the 9th of June 2022 when he was elected the Presidential Candidate.
"His unfavorable actions and/or inactions to this point have jeopardized the future and chances of all our candidates running for seats across the nation. The committee of the whole house, in a very clear and unequivocal phrase, criticized the abovementioned film in its whole and labeled it as a piece of ill planned blackmail and mudslinging, and so unanimously recommended his immediate suspension from the party starting today, Friday 2nd September 2022.
The National Executive Council would receive this resolution for further action.