As the Ado-Ilawe bridge falls, motorists and commuters are left stranded.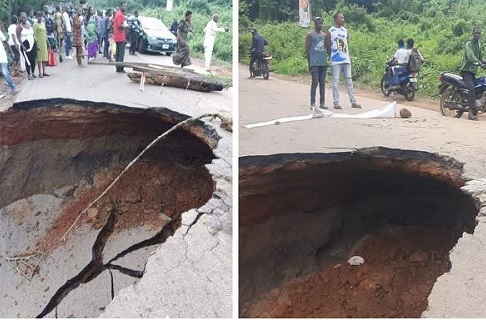 Ibekimi Oriamaja Reports
Following the collapse of a bridge connecting Ilawe-Ekiti and Ado-Ekiti in the Southwest Local Government of Ekiti State yesterday, commuters and drivers were left stranded for several hours.
Due to the terrible state of the Akure/Ado Road and the need for an alternate access route for commuters, the Ado-Ilawe road collapsed on Tuesday evening after a downpour.
Farmers who travel the highway every day were particularly affected by the circumstance because it blocked off localities like Ilawe-Ekiti, Igbara Odo, and Ogotun-Ekiti from other parts of the state.
As a result of the event, both commuters entering Ilawe-Ekiti from Ado-Ekiti and those leaving the historic hamlet were stuck with their vehicles stationary.
The predicament from yesterday afternoon, which led some travelers to resort to walking with their luggage across the bridge to its end, persisted today.
In order to get from Akure to Iyin to Ado-Ekiti, vehicles and motorcyclists traveling on the road are now need to follow Ilawe-Igede
Local resident Alhaji Bello Saka called the situation horrible and sad and said the victims went through a scary journey.
According to him, the federal government's failure to complete federal roads in Ekiti State thwarted the funding the state government had obtained from the African Development Bank (AfDB) to complete federal roads.
The Federal Ministry of Works, the Federal Road Maintenance Agency, and the Ekiti State Government were requested for assistance by the Alawe of Ilawe-Ekiti, Oba Ajibade Alabi.
Mr. Olusola Joseph, Sector Commander for the Federal Road Safety Corps, has encouraged drivers to take alternate routes.
The event, according to Joseph, who made the statement yesterday, makes it difficult for drivers to travel across the collapsed bridge.