Borno water disaster: 15 bodies have been found, according to NEMA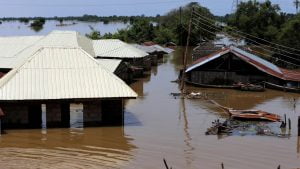 Ibekimi Oriamaja Reports
The National Emergency Management Agency's (NEMA) North East Coordinator, Muhammad Usman, reports that the flooded River Ngadabul in Maiduguri, Borno State, has yielded roughly 15 bodies.
In Maiduguri, numerous communities that were situated along the river banks were impacted by the flood, he said.
In a Wednesday interview with newsmen in Maiduguri, he gave parents and guardians the advice to forbid their wards and children from swimming in the river to prevent drowning.
Usman stated that NEMA, as a disaster management organization, had been actively working to educate the people about the risks of flooding and appropriate safety measures.
He continued, "We have been working with different stakeholders on raising awareness and giving assistance supplies to affected villages.
In a same vein, the Borno Command of the Nigeria Security and Civil Defence Corps has positioned its personnel along the river banks to shoo away children swarming to the river to swim in order to reduce the incidence of people drowning.