Candidate for Lagos PDP governor demands Sanwo-resignation Olu's following building collapse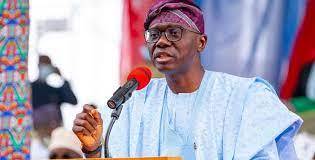 Ibekimi Oriamaja Reports
Dr. Olajide Adediran, the Peoples Democratic Party's (PDP) candidate for governor of Lagos State in the 2023 election, yesterday demanded the resignation of Governor Babajide Sanwo-Olu due to what he called the administration's "ineptitude" to stop the spate of collapsed buildings and the subsequent loss of innocent lives in the state.
Adediran, who spoke through Gbenga Ogunleye, Head of the Media and Communications Jandor4Governor Campaign Organization, also demanded that all suspects in the recent seven-story building collapse on Oba Idowu Abiodun Oniru Road, Oniru Estate, in the state's Victoria Island area last Sunday be prosecuted.
The media briefing was held at the Liberty Place, Campaign Headquarters in Ikeja and was titled "Avoidable deaths from continuous building collapse in Lagos State: Sanwo-Olu should resign."
The PDP candidate lamented that the state government's "show of insensitivity and ineptitude is very disturbing," even as he noted that the issue "seemed to have lingered due to leadership rudderlessness and irresponsibility of relevant authorities."
He stated: "It is expected that the governor would have resigned himself as opposed to using his commissioner as a convenient scapegoat. To stop these disasters and the subsequent mourning of avoidable deaths, he has made a number of unfulfilled promises.
He showed insensitivity and a disregard for human life by attending a social event in the distant United States of America to present an award while the victims' blood was still warm. Very awful.
"The Building Collapse Prevention Guild (BCPG), a professional advocacy group for the built environment, reported in 2019 that 36,000 buildings in Lagos were at risk of collapsing. However, this illiterate government did nothing to address the problem.
"Six people died in the recent building collapse on Victoria Island, which is one too many cases. The death of the victims was preventable. Dereliction of duty is obvious here, and this behavior is unlawful.