Daughter of Soludo, an economist, chooses to pursue a career in fashion design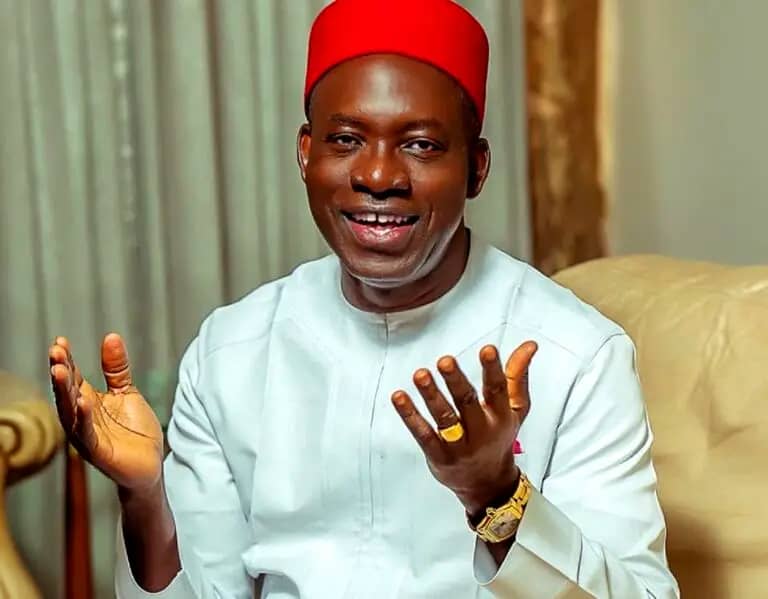 Ibekimi Oriamaja Reports
Adaora Soludo, the governor of Anambra State's daughter and a seamstress, organized a fashion show in Awka to inform locals about international trends in fashion.
Adaora, who graduated from college with a degree in economics like her father, decided to pursue fashion design, which she has been doing since she was 15.
She claimed that since humankind has used clothing as a means of expression, she had to give up her job as an economist in order to fully embrace her strong passion for fashion.
She claimed that the "Anambra Fashion Expo" agenda for today consists of three parts.
"Beyond functioning as an article of clothing to shield the body from the elements, it has evolved over time to embody and exert the fundamental parts of man's personality," she said.
Fashion serves as a method of subsistence for many people in addition to being a basic human need. In addition to being excellent economically, creating an environment where locally produced clothing may flourish and be made available for export is a key strategy for closing the nation's growing employment gap.
"Our people have developed ways to communicate nonverbally through clothes. Every thread in the fabric acts as a genetic code, transmitting the expressions of the great and proud people who came before us, expressing their rich heritage, diversity, and innovation.
Humans strive daily to meet their basic necessities, which include clothing, food, and shelter. Cultural norms dictate how these requirements are to be addressed, and as a result, there are indigenous forms of architecture, meals, and clothing that help to define a people and set them apart from others.
"Aorah (her company name) has supplied cultural contexts for fashion over the years, whether they be Western, African, Nigerian, or Igbo. The traditional viewpoint is the greatest one from which to appreciate the skill of fashion.
She asserted that although culture was dynamic and would change over time, cultural identities remained tenacious and needed to be expressed during transitional periods.
. Adaora described Akwete cloth, which her father promoted, as a vibrant fabric that bestows a distinct sense of nobility on those who wear it.
"It can be sized according to the designer's preference, fit for quick urban wears, and for all categories of social gatherings," she continued. It comes with a sense of pride that is unique to people who eat the things that others produce. in the recent past. As a result of the Anambra State Governor wearing it as part of his official dress, the fabric has gained popularity. Leaders and other high-ranking government officials have also donned this attire.
"Anambra Fashion Expo 2022 honors the fortitude of the Akwete women who have worked tirelessly to put the Akwete cloth on the world's fashion map over the years.
"Today's exhibition would be the fashion runway display. It's like a trade fair for everything fashion."
She asserts that Akwete fabric, which is produced primarily by women from the rural Akwete community in Abia State, is the only piece of indigenous textile still in use by Nd Igbo of the South-East. She adds, however, that "this resilient piece of colorful clothing faces the threat of extinction by a number of social and economic factors."