Environmental risk is present in 5 coastal LGs, Lagos warns the populace.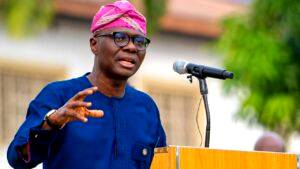 Ibekimi Oriamaja Reports
According to the Lagos State Government, danger threatens the state's coastal communities of Apapa, Ojo, Ikorodu, Ibeju Lekki, and Badagry Local Governments "if human attitude to the environment is not correctly addressed."
Speaking during an advocacy meeting at Lagos State University, LASU, in Ojo, Lagos, Dr. Omobolaji Gaji, Permanent Secretary, Office of Environmental Services, State Ministry of the Environment and Water Resources, said this.
The program was a component of an initiative to raise awareness of the value of conserving coastal communities and a robust ecosystem.
The danger could be avoided, according to Gaji, who was represented by the Director of Sanitation Services at the Office of Environmental Services, Dr. Hassan Sanuth. This task belongs to everyone, regardless of position or status in society.
Therefore, the state administration emphasized the requirement for people of coastal communities to adjust their attitudes toward the environment.
Abstaining from all types of environmental contamination and encroachments in the state's coastal villages are just two examples of this type of attitude change, according to Gaji.
In addition to ongoing pollution and various forms of invasion, Gaji observed that human activities by inhabitants throughout coastal areas in the state pose a threat to the ecosystems.
He emphasized the following actions, saying that everyone must be motivated to make a proactive commitment to enhancing coastal communities: the careless disposal of industrial and human garbage on wetlands and river banks.
Communities like Ojo, Ikorodu, Ibeju Lekki, Badagry, and Apapa are particularly vulnerable to these current environmental challenges, according to Gaji, and danger lurks if human attitudes toward the environment are not correctly regulated.
In order to ensure compliance with effective and efficient waste management, waste water storage and disposal, and sanitary tank construction and management, we must all take action.
He explained that due to their contribution to the food supply chain, coastal towns in the recent past had greatly benefited humanity.
According to Gaji, coastal areas are significant landscape elements that perform a variety of functions that are beneficial to people, fish, and wildlife. These functions and services include maintaining surface water flow during dry periods, protecting and improving water quality, and providing food.
The majority of the septic tanks in those communities were found to be poorly constructed; as a result, water from the septic tanks is being discharged directly into the drainage channels and roads, contaminating the water bodies and the aquifer, according to the director of the Environmental Education Unit, Mrs. Monsurat Banire, who gave an overview of the surveillance carried out in the communities of Tedi, Ijede, and Ariyo, all in the Ojo Local Government.
She asserted that there is no better moment than the present to increase awareness among inhabitants of the Ojo Local Government and other coastal areas of the state about the significance of a shift in mindset and the growth of a deep respect and regard for the environment.
According to the guest lecturer, Dr. Olasunkanmi Sojinu, Director of Environmental Assessment in the Office of Environmental Services, "Earth is the only planet that sustains human existence, thus it is necessary to ensure that it is not destroyed."
Tree cutting, open defecation, bush burning, and careless waste disposal are only a few examples of human actions that have a negative impact on the ecosystem, and Sojinu urged citizens to stop doing them and make a commitment to a sustainable environment.