EPL: Aubameyang dons the supposedly cursed Chelsea jersey number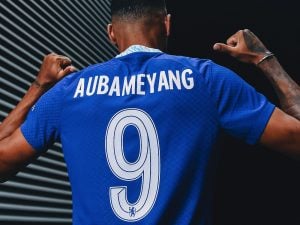 Ibekimi Oriamaja Reports
Chelsea has announced that Pierre-Emerick Aubameyang will wear the number 9 jersey.
The striker from Gabon, who transferred from Barcelona to the Blues on transfer deadline day, now wears the number that Romelu Lukaku abandoned earlier this summer after going on loan to Inter Milan.
Similar to when he played for Borussia Dortmund in the Bundesliga, Aubameyang donned the number 17 jersey this season for Barcelona.
The 33-year-old wore number 14 when playing for Arsenal in the Premier League.
In France, at Saint Etienne and Dijon, Aubameyang wore the number 9.
Thomas Tuchel, the manager of Chelsea, said last month that because of superstitious beliefs, "nobody wants to touch" the team's No. 9 jersey.
At Stamford Bridge, Fernando Torres, Alvaro Morata, Radamel Falcao, and Gonzalo Higuain all struggled to live up to expectations after winning the starting position.