EPL: Man United paid Solskjaer and Rangnick £24.7 million.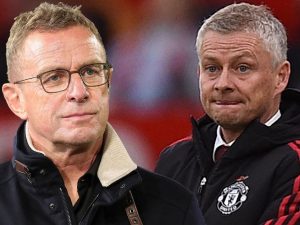 Ibekimi Oriamaja Reports
Manchester United paid Ole Gunnar Solskjaer and Ralf Rangnick £24.7 million in compensation after they departed the club last season.
The data were revealed on Thursday, when the Premier League club announced a net loss of £115.5 million in their quarterly financial results.
United's net debt is currently £514.9 million, up from £419.5 million in the same period last year.
United announced in March that they paid out £10 million on 'extraordinary items' in the second quarter of the fiscal year. This number included the severance pay for Solskjaer and other members of his coaching team who left the club.
Solskjaer is alleged to have earned a payout of £7.5 million after signing a contract extension at Old Trafford just months before.
After Solskjaer's departure, Michael Carrick was named caretaker manager before Rangnick was named interim manager.
Rangnick, however, resigned at the end of the season after his two-year consultant job was terminated, and the coach was named as the new manager of the Austrian national team. He left the club along with his coaching appointments, which included assistant Chris Armas.