Free Food And Cash: Tinubu-Yahaya Organisation Spreads Joy in Gombe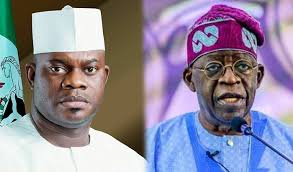 Mohammed O. Taoheed reports,
About 150 physically challenged people has benefited from cash donations and food items from members of Tinubu Inuwa Mandate Organisation in Gombe yesterday.
The donation is made at a ceremony which attracted a large number of Asiwaju Bola Tinubu and Governor Muhammadu Inuwa Yahaya supporters.
Speaking with Track News Nigeria, the Chief of Staff Gombe, Malam Abubakar Inuwa, Kari noted that the donation is just the prologue of many packages by supporters of the All Progressives Congress presidential and gubernatorial candidates for the needy and the less privileged in the state.
According to him: "You know the physically challenged people are a very critical group in our society. They are the less privileged and the ones that need help, so we are kick-starting his empowerment program for the less privileged with them. It is going to be a gradual process, we are going to do the next stage for women, youths and it goes on like that till the campaign starts"
He made this known in a manner to exhibit that Bola Tinubu and Governor Yahaya are ready for the people of Nigeria and Gombe State.
On the approach to ensure the victory of Governor Yahaya and Asiwaju Bola Tinubu in the 2023 general elections, he described the APC as a people-oriented party that is always with the people and will go directly to the people.
Meanwhile, Alhaji Muhammad Magaji Gettado, the State Commissioner for Agriculture, stressed that the support of the people of Gombe for Asiwaju Bola Tinubu and Governor Yahaya is huge and that the people are only waiting for the 2023 general elections for them to emerge winners.
He added that the people of Gombe have no fear of the general election because of the antecedent of Asiwaju Bola Tinubu and what Governor Yahaya has done in the state.
"All local government areas in Gombe State are involved here today and the items are provided free with money to transport them back to their respective homes. The items and money are donations from members of TIMO and other well-meaning individuals who are with us," he said.
Speaking with Track News Nigeria, one of the beneficiaries, who gave her name as Aishatu Jalo, appreciated the TIMO and vowed to cast her vote for them in next year's general elections.