Governor Okowa present an executive bill to Review of the Administration of Criminal Justice Law (ACJL).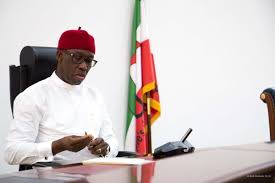 Ibekimi Oriamaja Reports
The governor of Delta State, Senator Ifeanyi Okowa, is close to presenting an executive bill to the Delta State House of Assembly that will review the Administration of Criminal Justice Law (ACJL).
According to Mr. Isaiah Bozimo, the attorney general and commissioner for justice of Delta State, who made this statement during a conversation with reporters in Asaba on Wednesday, the time's circumstances necessitated a review of the legislation.
Bozimo emphasized that many stakeholders made proposals for how to effectively establish the ACJL during the conference that the state's Ministry of Justice sponsored earlier this year.
He stressed that the proposed review was driven by a few persistent problems with the ACJL's implementation and that this change would enable the law to achieve its intended legal purpose.
The state's attorney general, meanwhile, voiced worry that "the slow pace of proceedings (and) the awaiting trial syndrome, which has meant that the population of detainees at various correctional facilities" will increase further.
He referred to the circumstance in which 80% of inmates were those awaiting trial and only 20% had been found guilty as untenable.
Bozimo asserted that a number of complaints had been made over what was seen as the highhandedness with which numerous executive agencies were carrying out their responsibilities, particularly when it came to upholding its rules and regulations.
In order to address these complaints, he said that Okowa has already forwarded the Administrative Procedure Bill to the State House of Assembly.
In order to ensure that the public was informed about the rules and regulations, he said, the bill would strive to make it mandatory for all executive agencies to put them on their own websites, in the state website, on their official notice board, or in a gazette.
Meanwhile, in order to ensure effective justice delivery, Delta State's attorney general and commissioner for justice have underlined how critical it is to create a cordial relationship between the bench and the bar.
He commended the stakeholders for their insightful remarks and welcomed the bench's active participation in the aforementioned summit, saying it was encouraging to see the bench and the bar uphold the long-standing norm of legal practice by continuing to respect one another.
Bozimo also commended the employees of the ministry of justice for carrying out their duties with the utmost honesty and dedication.