Interview with Okiki Bakare, "My Greatest Fear as an Actor"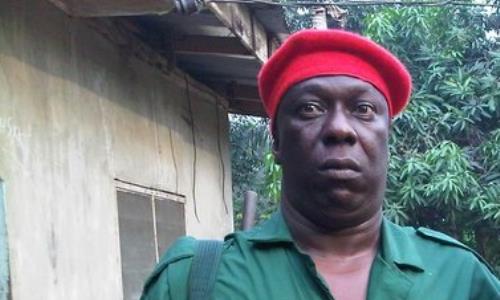 Ibekimi Oriamaja Reports
Okiki Bakare, a producer and actor in Nollywood, talks with Track News about his life, relationships, and progress in the entertainment business.
What propelled you to the level where you are now one of Yoruba Nollywood's most sought-after actors?
I sincerely believe that every role I am given merits my best and undivided attention, and I approach each assignment as if it were my own. I enjoy my work and what I do. That might be one of the factors contributing to the attention I am receiving, I suppose. When I can, I try to contribute suggestions to ensure that the final product is always the finest.
What are your ambitions to stay in the spotlight because you have done well for yourself in the Yoruba sector while some of your coworkers have just expanded into the English Nollywood?
I do English as well, so I'm not just limited to working on Yoruba movies. I have appeared in several films and television shows, including but not limited to the Bond, couple, and picture-perfect series.
And while being an exclusively Yoruba actor won't necessarily keep you in the spotlight, if you excel in one area, hone it to the best of your ability, and if you're fortunate enough to have other skills, hone them as well!
The Yoruba movie industry is expanding so much but with no proper structure that could ensure that producers like you would make a return on investment. What is your take?
One person can't change the world, I would say doing your own part will help. Once you invest in a project it's only right that you get returns and that has been the case for me throughout. I'm not so sure what comes to the mind of others when they say structure but you yourself can build your standards and structure within your project.
What has been your greatest fear as an actor/producer?
My greatest fear as an actor is not being able to make an impact on this generation and the up-and-coming ones.
As an actor with good looks, do you get passes from the opposite sex and how do you cope with the temptations of people who want you?
It's only normal to get advanced from the opposite sex, I just try to stay focused on the goal.
Some stars in the Yoruba movie industry have been painting the industry in bad light with their actions and public outburst, what's your take on this?
Everyone is human, and everyone is their own person, celebrity or not, Nollywood or not.
No one is above the law.
It was alleged that you and Mide Martins were in a romantic relationship, and your loved-up photos were also seen online. What's your take on this?
The so-called "loved-up" photos are those we take on set, and with clothing brands, we are both working with. People have their opinions, you can't fault them for wanting to make money for posts in this Nigeria. one thing I'll say to Nigerians and the world is social media isn't real life, people create what they want you to believe.
Did the social media trolls and attacks that you were dating your married colleague have any implication on your career?
No it didn't.
If acting stops paying you today, what other job do you see yourself doing?
It's intriguing since I truly don't know where else I could be. Maybe a football player—I'm fairly agile—or a writer—something that lets me use my imagination to make things.
How difficult was it for you to locate a woman who really loved you?
So far, it's been the easiest.
What do you think about the'sex for role' rumors in Nollywood, and have you personally encountered them?
It's unjust! I think Nigeria has potential, and utilizing it to "help" is rather depressing!