IPDI requests that the soldiers leave the Rivers communities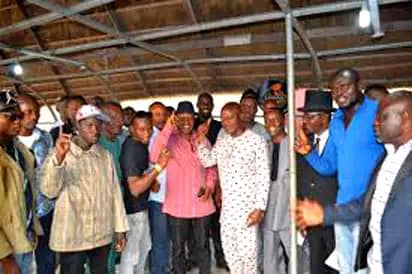 Ibekimi Oriamaja Reports
The Ijaw People's Development Initiative, or IPDI, has urged the Nigerian Army to remove its troops from the settlements of Udouda and Okobe in Egene Kingdom, Ahoada West Local Government Area of Rivers State, so that the early-this-month evacuees can return.
"We call on the Chief of Defence Staff, Chief of Army Staff, and Governor Nyesom Wike of Rivers State to prevail on the military task force, Operation Delta Safe, in Rivers and Bayelsa states to evacuate from Uduoda and Okobe," the rights group said in a statement released yesterday in Warri by its national president, Austin Ozobo.
"Hundreds of people of Udouda and Okobe who left their houses after military bombardments have been homeless and suffering since the invasion and want to go back to their homes to pick up the pieces of their lives.
The government should put an end to additional invasions of communities and make sure that military personnel who commit horrible crimes against innocent people are brought to justice.
"Troops should not gruesomely kill and conquer the Uduoda and Okobe communities since they are not at war with the Nigerian military.
"Bombarding a neighborhood because some residents are carrying firearms and illegally bunkering for oil is insufficient since, while you are focusing on the gun-carrying individuals, there are also others who are either not carrying guns or engaging in illegal oil bunkering.
We want to make it clear that the communities of Uduoda and Okobe in Rivers State are not hiding places or camps for militants, so the military shouldn't bomb them using shoddy military intelligence because these are places with government-owned schools, power lines, churches, communication equipment, and other infrastructure.
If the Nigerian military used the same tactics to combat terrorism, banditry, and Islamic militants as they do when attacking vulnerable communities in the Niger Delta, Nigeria could already be free of Islamic Taliban by this point.
If what we now refer to as military intelligence is anything more than hearsay, then before attacking a residential area, you should determine whether it is one, how many people are living there legally, and how many other people live there. This will help you avoid causing collateral damage.