KWABAFEST: Attendees Tasks Government, Drums For More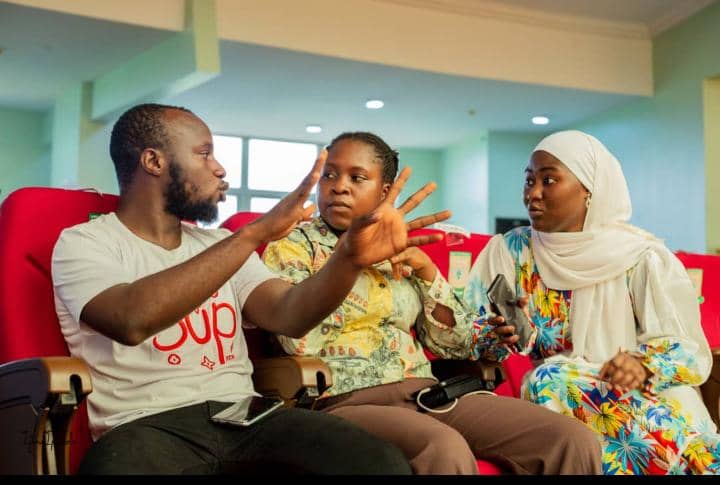 BY: Ibekimi Oriamaja
In this reporter, Ibekimi Oriamaja speaks with some attendees of the just concluded Kwara State Books and Arts Festival (KWABAFEST) which was a 3-day event in the Ilorin metropolis. The attendees share their experience in response to the questions asked by our reporter.
The first of its kind, KWABAFEST is an event that honours creativity, culture, and intellect in Kwara State.
The festival showcases and stimulates discussions on the state's culture, creativity, and art. Along with forging the connection between the arts and the contemporary states, it will also foster fresh voices.
There are competitions, book readings, workshops, exhibitions, performances, discussions, and panel discussions among a tour of important cultural sites in the state.
Unfortunately, the event recorded no support from the Kwara State Government.
Here is the report:
Speaking with Track News Nigeria, Lateefat Kehinde, an Estate Management student of the Kwara State Polytechnic Ilorin, said her experience about the event was that she learnt more about "Oba Momo". Oba Momo is a legendary account of the ancient king of Ilorin who was betrayed by his own brother. A sorrowful epic, it is historical.
In her words: "I thank the organizers so much for their time and effort in organizing such a wonderful event. I have to say, I truly appreciate all the hard work they put into just to make the event a successful one.you put into us having a great time".
Another attendee, Nadheef Hamzah Olalekan,
who studies Literature at Usmanu Danfodiyo University Sokoto and come from Ibadan to watch the festival told Track News Nigeria: "It's really amazing and instructive. The organizer did a great job, and this is the true work of art".
"I gained a lot of knowledge about Ivorin culture through the play "Oba Momo," which we performed, even though I am not from Ivorin".
"It should occur twice a year, not annually".
In is statement, he also said that, "the government needs to help them because they did so well in the one that just ended".
Abdulsalam Saheed Olarewaju, a 200 level student of English Language at Federal University Dutsin-MA, Kastina State described the event as so delightful and full of experience.
"Reading can be somewhat exposing and eye-opening,but it gets better when you experience a pictorial evidence of what you read.Among the full packages of this KWABAFEST that amazed me so well was the staging of Oba Mama ,a play written by Dr.Isiaka Aliagan,which was practically displayed on stage.
Should I say the characters/actors are too cool and well organized, because I was too emotional when watching them on stage,I was taken back to the past and felt as if I was part of the story."
"Yes,even a fool wouldn't go there without learning.I was exposed to how one can make dreams come to reality.
At the end of the event,I heard one of the conveners said,"They only had two weeks to rehearse for all the performances".I was like,even this looked like they had years for the rehearsal of the whole thing.Then I realized what one can do,if one puts energy and focuses on one's dream.
"This kind of event should be done often in our society.Look at the prose competition among the secondary school students, how the organizers managed to bring our culture back to life,how this served as an avenue for the talented to show case their latent talent.Everyone would want this to be annual, it's good for our culture and society.
"Let the Kwara state government take a look and see her reaction".
"I bet every government would be proud to have such initiative going on in her state.This awakens the dying cultures,it opens the youth's eyes and sharpens their brains".
"I think it's worthy of sponsorships and profound attentions for the government".
"Smile……The organizers should look at the faces of those secondary school students and see how wonderful they made them feel.Those smiling faces are enough for them as hearty appreciations."
Olisha Awele Amanda, a final student of Unilorin said that it was a pretty cool experience being her first experience at an event like that.
"The center was really beautiful with the African themed decorations. At first when the program started, I was kind of lost because Yoruba seemed like the dominant language spoken and I couldn't relate with some segment of the program, but all in all it was a good one as I got the opportunity to see this art from another perspective different from what I'm used to.
"Yes! I learnt a lot of lessons. But I'll mention just a few. During one of the panelists' discussions, I got more awareness on the need to elevate our culture with our art leveraging social media. I learnt that as a young African creative I need to choose the platform I want to be heard on and stay loyal to it and one thing that struck me that was said by one of the panelists, Aremo Gemini was "Treat your art as a gift, not content". It's a gift I am giving to the world to impact and not just mere content to entertain. That, I held on to."
"Certainly, the Kwara State Government should support this initiative as a means to encourage and amplify the voice of young Nigerians to the world. It's amazing as to how we have so much to say but as a nation, we lack the platform to do so. This is a brilliant initiative I would love Kwara State Government to look into and support so they can also fulfill all the plans they set out to do in the editions to come."
"Yes, I do. First off, I'd like to say "Thank you" for an opportunity such as this to share my voice with others and impact them with my piece. I really wish them the very best. Kudos!"
Editor's Note: This report has been given a minimal editing to suit the thought of the reporter.