KWABAFEST: Ilorin Lecturers Tasks Government To Support, Commends Organizers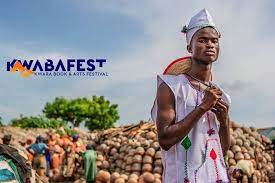 Mohammed Oluwatimileyin Taoheed reports,
Some notable lecturers at different universities in Ilorin metropolis have tasked the AbdulRahman Abdulrasaq led-government to support the promotion of arts and culture in the state by backing the organizers of the Kwara State Books and Festival in Ilorin.
Recall that the Track News Nigeria had earlier reported while some students of the state organized the event, the Kwara State Books and Arts Festival is an event that aims to bring stories from the scratch in all the environs that surrounds Ilorin. The first in the history of Kwara State is firstly organized and recently concluded at the last days of August, 2022.
Speaking with the Track News Nigeria in Ilorin, Dr. Usman Oladipo Akanbi, an Agricultural Economist lecturing at the University of Ilorin reiterated that the Kwara State government should drive in their efforts in any way they can so that the event will not die down, adding that government can prioritize this.
According to him: "Naturally, one will expect government to support but it seems so much overwhelmed the government these days that they can hardly be bothered about such programmes like this; paucity of fund has become a recurring decimal in government communications! However, I believe if government can prioritize its activities, they will be able to make room for a support to such laudable initiative like the KWABAFEST."
Commending the festival, Dr. Akanbi said: "Like I earlier mentioned the KWABAFEST is a laudable project which must be supported by all. Such programmes like this helps lift of the image of a state and more importantly, serves as a fulcrum for advancing literature and creative art development. Of course, like Oliver Twist will crave for more of such initiatives. At this juncture, I must commend the organizers of the KWABAFEST for a job well done."
Also a creative writer, Dr. Usman is the Past Chairman, Kwara Chapter of Association of Nigerian Authors and Founder of Imodoye Writers Enclave, Ilorin.
Another lecturer, Mr Al-Amin Naish, a lecturer at the Literature Department of the Kwara State University (KWASU) Malete, told the Track News Nigeria that the AbdulRasaq-led administration should intervene because festival of this nature needs a strong backup.
In his words: "All festival of this nature requires a great deal of financial backup. Being a grooming program for the development and subsequent growth of young creatives, there is need for support from every lover of human growth and development. Certainly, growth is necessary and all lessons learned must be effectively implemented in subsequent editions."
Meanwhile, the Lead Convener and Head of the Organizers for KWABAFEST, Mr. Hussein AbdulBasit, spoke with our Correspondent on the rationale behind the aims of the festival and what they expect from the government.
Hussein asserted: "For a state like Kwara State who have eminent literary figures who are sons of the soil, you will agree with me that the state is due to have an arts festival like this for a very long time but then, we didn't see any community or individual that intends to unite these talented persons and their creativity throughout the state. So KWABAFEST is just an attempt to celebrate these persons and deconstruct narratives around us in the Nigerian literary setting and at the same time to make our awareness about ourselves in the national and international space. We believe this that this will enhance economic growth because those who are with us can sell their arts."
The final year Danfodiyyo student added: "You can see that we feature varieties like music, poetry, dancing, fashion, painting and photography thus it is a platform for the participants to sell out their arts as seen in Lagos, Port Harcourt and other big states in the country."
He maintained: "We reach out to take different stakeholders but no response, all the financial response is also on us. But we pray that the Kwara State Government can capture this project in their subsequent budget as it will ease the loads on our neck. We are not asking for the money but we want them to aid us so that we can access some state's resources without difficulties. For this year, the main challenge is funding but we promise to bring a more fantastic standard in the next edition."