Lanre Sanusi Under EFCC Radar Over Alleged Multi-Million Naira Fraud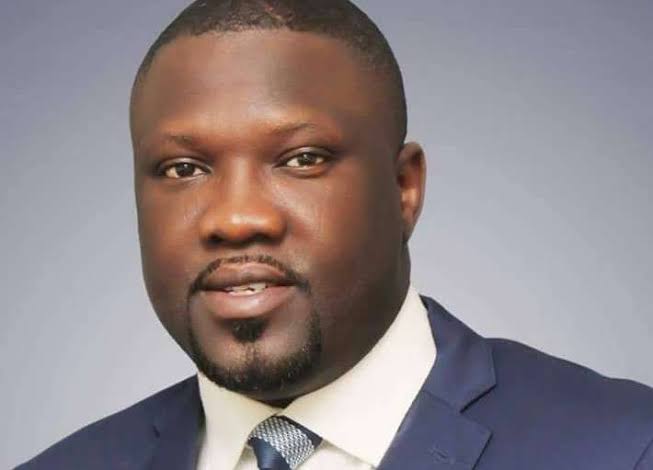 The Economic and Financial Crimes Commission (EFCC) is currently investigating Mr. Lanre Sanusi, APC's House of Representatives candidate in the Amuwo Odofin Federal Constituency, Lagos, over alleged fraud.
According to The Witness, (an online news platform) Sanusi was arrested following a petition against him by a logistics company, 4runner Limited.
He was also said to have allegedly diverted COVID-19 materials, hand sanitisers, and face masks worth millions of dollars from Dallas City Government Hospital in the United States with the aid of two of his friends who were truck drivers and in charge of the materials.
Report has it that Sanusi in 2019 was disqualified from being a commissioner by the Lagos State House of Assembly for presenting a fake academic certificate allegedly issued by a university in the United States.
A petition to the anti-graft agency by 4runner Limited had read, "Lanre Sanusi engaged 4runner Limited through Mr. Femi Dada to source for Four(4) shipping containers of 40 feet to load Covid-19 materials such as face masks, hand sanitisers, to ship it from the United States of America to Nigeria. To also, among other things, provide drivers and haulage companies with such container specifications. To load the material from its location in Dallas down to the port where it will be finally shipped to Nigeria and Lanre on the other hand would take charge of the clearing and administrating the offloading in Nigeria.
"All this discussion and service agreement was made electronically through WhatsApp chats and calls (copy of the printout of the WhatsApp chats between Mr, Lanre Sanusi, and Femi Dada is hereby attached as Appendix A). While all this process was ongoing, the bill of charge accrued to $33,000.00 (Thirty Thousand American Dollars) as the agreed sum that Mr. Lanre Sanusi would pay 4runner Limited through Mr. Femi Dada. The breakdown of which was agreed to by both parties is on WhatsApp chat. All appeared to be well, containers were at the loading location, and drivers too were available. We started loading the materials with Mr. Lanre Sanusi also assisting as every step being taken was carried out in his presence.
"He was physically involved all along till after two containers were fully loaded and moved to the port. Things begin to heat up when after the loaded container left the United States of America for Lagos- Nigeria and Lanre was nowhere to be found. We made frantic efforts to reach him through all means available but it was to no avail. For days, our calls were not returned, and chats sent to him were read and not replied to. We became impatient and frustrated as the company's reputation was being dragged into the mud. Our capital was also tied down as we have expended funds on this project, only for Lanre to abandon the project and disappeared into thin air after we had rendered the service, he engaged us for.
"Monetary commitment paid to us was even by his friend, Adebayo Godson ($1700.00 USD). At a time, we went confrontational with him but yielded no positive outcome. Subsequently, a request for payment was sent to Mr. Lanre Sanusi as well as an invoice to properly demand payment of the service rendered. (The copy of both herein is attached as AppendixC). All this was done to ensure we recoup the capital and to know if he wished to continue with the project or otherwise.
"Consequently, Mr. Lanre Sanusi's fraudulent, deceitful activity, unprofessional attitude and misrepresentation of fact on the whole project led to us carry out a background check of him amid investigate reasons why he abandoned the project midway, breached his agreement with us and unfortunately put our reputation and relationship with foreign contacts in jeopardy. Alas, our findings and discovery were very disturbing and alarming. We got to know that Mr. Lanre Sanusi fraudulently misrepresented facts about the project to us which is a criminal offense in Nigeria where our company is situated.
"The Covid-19 materials, hand sanitisers, and face masks worth millions of dollars were actually diverted from Dallas City Government Hospital in the United States with the aid of two of his friends who are truck drivers and in charge of the materials.
"It should interest you to know that not only did Lanre abandon the materials shipped and the ones due to be shipped to Nigeria as he was campaigning to be a House of Representatives Member, representing Amuwo Odofin Federal Constituency because he intended to use it as campaign souvenirs, he intentionally set fire on the other materials; that is, those he has no capacity to ship to Nigeria. (Picture of the burnt materials is hereby attached as Appendix D). The reason for this act was because he got information that Covid-19 protocols in Nigeria have been relaxed and the use of such materials as election souvenirs will not be much appreciated. This made him discontinue the project without proper notice and a bill of settlement.
"Our initial agreed invoice was $33,000.00 USD (Thirty-Three Thousand American Dollars) but the huge demurrage and other service charges on the 3rd and 4th containers, coupled with the high exchange rate in Nigeria, the bill of charges are at present $51, 870.00 USD (Fifty-One Thousand, Eight Hundred and Seventy American Dollar)."
Mr. Sanusi didn't respond to inquiries as at press time.