Mother and son get nearly N1 million in public donations for the auctioned automobile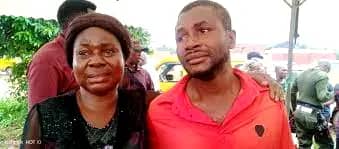 Ibekimi Oriamaja Reports
Dorothy Dike, a widow from Lagos, and her son Osinachi Ndukwe, who openly asked for a price reduction when their minibus (Korope) was auctioned off by the state government for N405,000 last Thursday in Alausa, Ikeja, appear to be receiving assistance.
Yesterday in her one-room apartment in Lagos' Ogba-Aguda neighborhood, said she has been receiving donations from well-meaning Nigerians, including PDP's Olajide Adediran, also known as Jandor, and his running mate, Funke Akindele, who paid a weekend visit to her and her son and gave them N500,000.
According to Dorothy, her family has received over N1 million in donations, of which N700,000 has been given to the bus's original owner, Mr. Ife Ikechukwu, who sold the bus to Osinachi on a lease purchase basis for N1.8 million, with just N300,000 paid before the vehicle was confiscated.
I never thought Nigerians could help us, the woman narrated. I have been finding it difficult to make ends meet as a single mother of two. When things got tough in Lagos, my mother had been a good support, and I had considered moving there to stay with her. Sadly, she passed away recently, which made things worse.
In a statement made, she broke down the contributions as follows: "Aside from the PDP candidate, one of my church members connected us with a chief in Ajah, Lagos, who donated N300,000, while the remaining were by other good Samaritans, who contacted us after reading about our story.
When asked what she would do with the remaining money, Dorothy responded, "I need to take a break to properly treat myself. The stress I went through since the vehicle was impounded has badly impacted my health. I don't want to cry as I'm talking to you since I'm not feeling very well.
"I've told my son to never drive against traffic anywhere, but I'll emphasize it when I'm feeling better later."
Son: "I'd like to be a chemist."
Osinachi stated in a conversation with Vanguard that he would prefer to work as a chemist rather a truck driver.
He claims, "I completed my eight-year apprenticeship and received my training as a chemist in Ajegunle, Lagos.
"However, up to now, my employer has not established me. To avoid being idle, I became a commercial driver, which has gotten me into difficulties. I've been scurrying around looking for someone who might be able to assist me practice as a chemist after serving a three-month sentence for traffic violations.
"When we paid N700,000 for the vehicle, the owner wrote off my debt; but, I still need housing so that I can rejoin my immediate family. Above all, I want to practice chemistry, but I lack the resources to do so.